How to Calculate if I Should Rent or Buy
When determining if you should rent or buy – you'll need to look at all the expenses associated with homeownership. Once you have the dollars and cents, you can calculate how many years it will take for you to break-even on buying versus renting.
If you only plan on staying in a home for a few years, it might not be a good investment – but if you plan on staying for five or more – it could be a good move.
The best way to determine your situation is to use a calculator like this one and start playing with difference scenarios.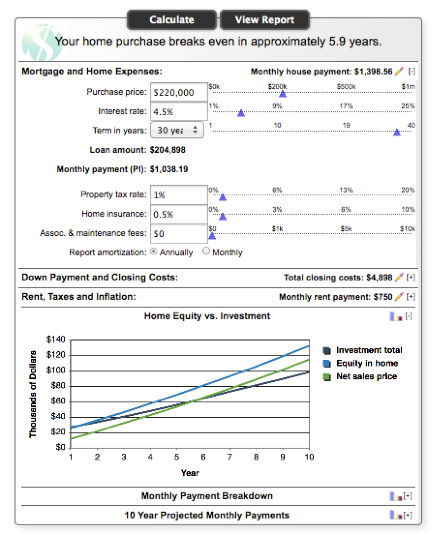 Here's what you'll need:
An estimated home purchase price
Current interest rates
The number of years you want to finance your loan
Home insurance
Association and maintenance fees estimate
Select whether you want the report to calculate a monthly or annual estimate
Down payment and closing costs estimate
Your monthly rent payment
How to calculate:
Visit our Rent vs. Buy Calculator
Plug in your numbers
Click "Calculate"
You will receive results for:

The number of years it will take to "break even" on your home purchase
Home equity vs. Investment graph
Monthly payment break-down
10-year projected monthly payments graph
As you start looking into the possibility of buying a home, you can always use our team has a resource – feel free to give us a call and we would be happy to walk you through each scenario: 800-531-3837.