Understanding and Comparing Closing Costs
Purchasing a home is one of the largest investments you will make in life, so when shopping for a mortgage loan it is very important that you understand all the details of the transaction. As part of the mortgage process, the Consumer Financial Protection Bureau requires that lenders provide a Loan Estimate (LE) that will give you an idea of the closing costs and funds you will need for closing on your new home. If you are considering more than one lender it is important to compare "apples to apples" when reviewing the fees and bottom-line closing costs in your estimate.
Although you may receive an initial listing of closing costs when you first start working with a lender, once you provide the lender with the new property address, you will receive the actual Loan Estimate. Lenders are required within three days of the completion of your mortgage application to provide you with the Loan Estimate. This Loan Estimate will include the lifetime costs associated with the loan as well as the fees and funds required to close. If you are using the same title company that the lender used to quote title costs, the lender must not deviate more than 10% from their Loan Estimate. If the fees from the lender change significantly, they must provide you with a new Loan Estimate and explanation as to what circumstances changed that caused an increase in costs.
Closing Cost Breakdown

All lenders must use the same Loan Estimate Form that was standardized by the CFPB. The Consumer Finance Protection Bureau has a sample copy and explanation of this form on their website. In addition to basic personal information, the Loan Estimate will show the loan terms of your purchase such as the loan amount, interest rate, and monthly principal and interest. This information will typically remain consistent from the estimate to the Closing Disclosure.
The biggest variation when comparing Loan Estimates will most likely be found in the Closing Cost Details section. There are three types of costs that will show up on your Loan Estimate: Origination Charges, Services You Cannot Shop For, and Services You Can Shop For.
Loan Costs
The fees that a lender charges for processing and closing your loan are the most variable of all the fees. The fees under the Loan Origination Charges section are what the lender is charging to originate the loan. It is very important to add up all the loan costs on your estimate in order to accurately compare lenders.
Origination Charges
In the "Origination Charges" section, the costs associated with getting the loan are listed– origination fees, application and underwriting fees, and any discount points you're choosing to pay in order to buy down your interest rate. Pay close attention to this section when comparing the estimates provided by different lenders.
Application
Underwriting fee
Credit report
Discount points
Origination fees
Loan processing fee
Services You Cannot Shop For
This section of the Loan Estimate features fees that are charged by third parties and passed on to you through the lender. These charges will most likely be similar between lenders and are not legally open for you to shop around for other providers.
Flood certificates
Appraisal
Tax service fee
Credit report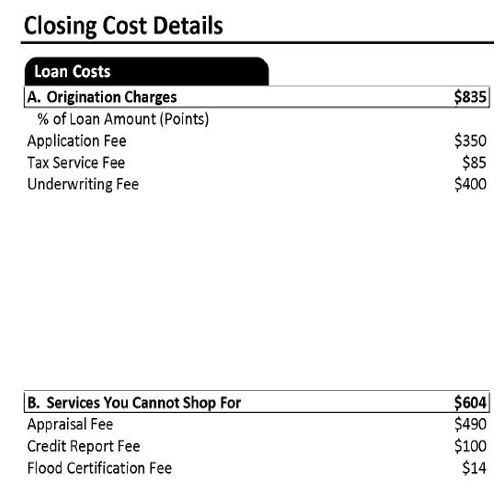 Services You Can Shop For
You may not have the opportunity to shop around for an appraisal provider, but you can do your research to find the best cost for title services. If you are in a state where the seller chooses the title company, you will have to go with that title company and ask to be provided with a listing of their fees.
Title company fees:

For disclosure purposes, title company fees that are listed on the Loan Estimate are typically from the lender's preferred title company. If you use the lender's preferred title company, these fees cannot change more than 10%. You are not obligated to use the lender's preferred Title Company. For this reason, title company costs typically should not be used for comparison shopping among lenders.
Title company fees may include:
Closing/settlement fee
Attorney fee
Title search
Title insurance

- Lender's (Required)
- Owner's (Optional)

Document Prep
Recording
Notary Fees
Miscellaneous Fees
Transfer Tax (only applicable in certain states)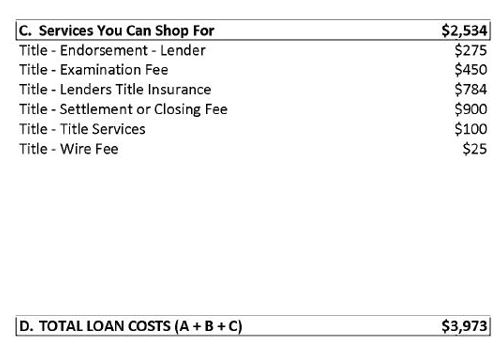 This column of loan costs on the Loan Estimate is the total cost of getting the mortgage loan.
Other Costs
In addition to the lending costs, there are also other costs associated with your home purchase, these include things you need to prepay like property taxes and homeowners insurance.
Prepaid items: If you are including your taxes and insurance in your mortgage payment, the lender will be required to collect enough monthly reserves to ensure that your escrow account will have enough funds to pay for the real estate taxes and insurance when they are due. Lenders may vary on how they show these reserves. If there is a big difference between lenders, you should ask for an explanation of how they are calculated. For the most part, reserves should not differ largely between lenders.
Homeowner's Insurance Premium: Before you can close your loan, you will be required to obtain a Homeowner's Insurance Policy. The lender must make an estimate as to how much this insurance will cost since it is a cost a borrower would incur as part of the purchase transaction. The actual cost of the insurance will be determined by you – as you will be the one purchasing the insurance. You can either obtain an insurance binder with an invoice and have the insurance paid at closing, or you can obtain a certificate of insurance with a paid receipt if you are paying it outside of closing.
Mortgage Insurance: If your loan requires any type of mortgage insurance, the lender will require that two months of insurance be held in your escrow account.
Prepaid Interest: Lenders will always charge interest from the day you close your loan until the end of that month. For example, if you are closing your loan on November 15th and your first mortgage payment is January 1st, the lender will withhold 16 days of interest so that your interest is paid through December 1st. December's interest is collected (in arrears) with your January payment.
Other Costs: The "Other" section may have optional costs such as owner's title insurance or attorney fees.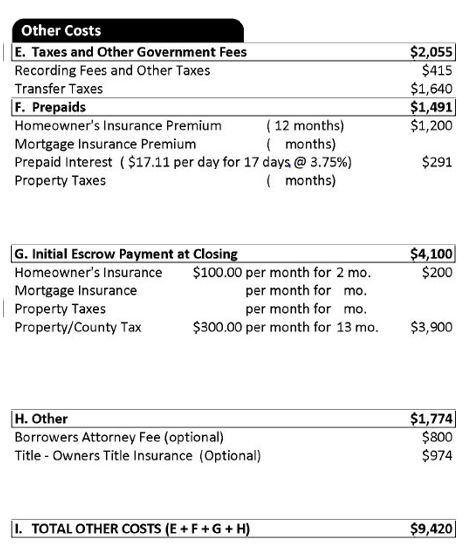 Calculating Cash to Close
Your cost to close should include the sum of all your closing costs, your required down payment and also show any seller and/or lender credits that you will receive plus any earnest money you paid in advance.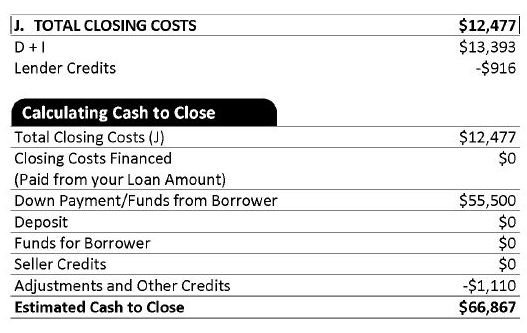 Do not be tempted to choose your lender based solely on what they are showing as their initial estimated cost to close. An "apples to apples" comparison needs to be done to determine which Loan Estimate reflects the lowest costs to you based on items that are truly lender's costs, or costs that you cannot shop for.
If you would like to get started with Sirva Mortgage, you can apply online or you can chat with one of our Mortgage Consultants at 844-299-8150 to go over any questions you may have.

Looking to see how much you can afford or just estimate the payments on your new home? Our calculators can help guide your next big decision!
Start Calculating