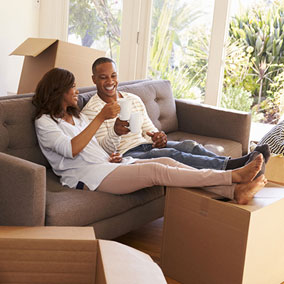 9 Tips for Applying for a Mortgage
Very few of us can afford to buy a house without a mortgage loan. Your home is likely to be the biggest purchase you will ever make and yet, people sometimes go into the process without having a clear idea of what it involves or where to begin.
At SIRVA Mortgage, we strive to make applying for a home loan as easy as possible. We understand that it can be a stressful time. Here are 9 tips to help you find a lender and apply for and obtain the mortgage that best suits your needs.
#1: Review Your Credit Report
When you decide to buy a house, the first thing you should do is pull copies of your credit reports from all three major credit bureaus. You are legally entitled to get a free report from each bureau once a year and you can obtain your free reports on this website.
When you receive your reports, be sure to review each line item and flag any errors. While creditors are required by law to report accurate information, the possibility of human error exists. Some of the most common errors on credit reports include the following:
Judgments or liens that may be incorrect. Sometimes, consumers are unaware that companies will file a judgment against them if they have delinquent unpaid balances. Most common are medical judgments that appear as the result of an unpaid insurance claim. These claims generally must be paid and show as satisfied prior to the closing of any mortgage.

Delinquencies reported in error. Creditors can sometimes make mistakes and report an account as late when you know you made your monthly payment on time.

Errors in personal information. Review the personal data at the top of your report. Any unfamiliar addresses or employers could be a sign that your credit history has been combined with that of a person with a similar name.
You should report any mistakes or inaccuracies you find to both the credit bureau and individual creditors where necessary. Cleaning up your credit report in advance can go a long way toward streamlining the mortgage process with your chosen lender.
After you review your credit report, be careful not to do anything that might negatively impact your credit. For example, closing existing accounts, maxing out your cards (even if you can afford the payment), or applying for any new debt.
#2: Pay Down Your Debt
One of the things you can do to increase your chances of qualifying for a mortgage is to pay down your debt to lower your debt-to-income ratio or DTI. You can calculate your ratio by adding your monthly debt payments together and dividing the total by your gross monthly income. For example, if you had monthly debt payments of $1,000 and monthly income of $3,000, your DTI would be 33%.
Generally speaking, a DTI of 43% or lower will qualify you for most loan programs. If your debt ratio is over 43%, there are programs available but they may be limited.
If you want to pay down your debt to improve your overall financial picture, one option is the avalanche method, which involves paying extra each month to pay off the credit card with the highest interest rate and working your way down. Another is the snowball method, which starts by paying down the highest balance.
#3: Save for a Down Payment
Once you've paid down your debt, the next step is to save for a down payment. You may have heard that you need to save 20% of the purchase price, but that thinking is outdated and you shouldn't let it dissuade you from buying a home. You should know that if you make a down payment of less than 20%, nearly any loan program is going to likely require some type of private mortgage insurance (PMI). That said, a single premium for PMI can be financed into your loan amount instead of being added to your monthly payment.
Some of the low down payment programs that you may qualify for include Federal Housing Administration (FHA) loans and Veterans Administration (VA) loans. If you qualify, the range for minimum down payments is from 0% to 3.5%.
To save money, a great option is to automate your savings. Your bank or credit union likely has an option where you can set up periodic automatic transfers to a dedicated savings account. Consider saving enough for both a down payment and estimated closing costs.
#4: Estimate Your Loan Payment and Set a Budget
How much of a loan payment will you be able to afford? That's an important question to ask yourself before you apply for a home loan. Mortgage pre-qualification and pre-approval are based on a variety of factors, including your income, the amount of debt you are carrying, and how much you are willing to spend for a new house. You may qualify for a larger mortgage than you feel comfortable with based on your monthly budget, so we recommend looking at the big picture to ensure you know your comfort level.
SIRVA Mortgage has loan calculators you can use to determine how much your mortgage payment might be based on the estimated home price, your down payment and other factors. Using a calculator is a good way to back into an estimate of the loan amount you may qualify for when you apply for a mortgage loan. While most mortgages have a 30-year loan term, you may also want to estimate your payment with a shorter term if the payment will fit your monthly budget.
Estimating your monthly payment ahead of time can help you to set a realistic budget before you begin looking at houses.



#5: Find a Reputable Lender
With your budget and down payment in place, the next step is to choose a lender. We recommend checking lender websites and reading reviews to get an idea of what to expect. When you are shopping for a lender, remember that you have multiple options. You can go to your current bank or credit union or you could work with a dedicated mortgage lender or even a mortgage broker. It is always wise to consider multiple lending options before making a decision.
It's helpful to make a comparison between lenders. Some of the things you should consider include the following:
Mortgage origination fees
Points
Other closing costs
APR
Down payment requirements
Mortgage insurance requirements
It's important to be sure you are making an apples-to-apples comparison. We suggest comparing APRs between loan offers rather than interest rates. The APR is more inclusive than the interest rate because it encompasses not only the interest, but also mortgage broker fees (if applicable), points, mortgage insurance and other finance charges related to the loan. Comparing an interest rate to an APR is not helpful because the APR is a more inclusive cost of credit and will typically be higher than the interest rate.
When you have all relevant information, you can compare lenders and ask questions if you need clarification. You can always ask a lender if there's wiggle room in any of the quoted loan costs. The answer may be no, but you won't know unless you ask.
#6: Apply for Mortgage Pre-Approval
You might be wondering whether mortgage pre-qualification or mortgage pre-approval is best for you. We recommend a verified pre-approval because it is a better indication of your ability to close on a mortgage than a pre-qualification. When a buyer has been pre-approved, sellers are more likely to accept the buyer's offer than they would be without a pre-approval.
The main difference between pre-qualification and pre-approval is that pre-qualification relies only on the information that you provide to your lender in your application. The lender does not verify the information you provide for a pre-qualification. With a pre-approval, you will provide documentation to verify your income and assets, or some lenders make this process easier by using automated tools to access this information online with your approval. The mortgage team will review the documentation and issue a Verified Pre-Approval Letter for you to submit with your offer to purchase a home.
#7: Find a House and Make an Offer
With your pre-approval in place, you can start looking for a house to buy. The pre-approval letter makes you attractive to sellers because it gives them some peace of mind about your ability to buy their home. A pre-qualification can be helpful, but to a much lesser degree.
It is essential to be realistic about what you can afford. Some buyers are willing to entertain offers below the asking price and others are not. Most real estate agents are knowledgeable about housing prices in the areas they serve and can keep you informed about changes in the local housing market. Understanding prices in the area can help determine whether there is room to negotiate from the asking price.
You should also take your down payment into consideration when shopping for a house. If you have been verified pre-approved for a $400,000 mortgage and you have $100,000 saved, then you would be able to shop for houses in the $500,000 range or less.
Once you find a house you like, your realtor will help you make an offer and, if the seller accepts, you will enter into a sales agreement.
#8: Lock in Your Interest Rate
One of the benefits of being pre-approved for a mortgage is that, other than updating some information, SIRVA Mortgage has already assessed your financial situation and will move forward to appraising the property for a full loan approval. We'll let you know exactly what information needs to be updated to streamline the underwriting process.
During your loan process, you should notify your lender of any changes to your financial status, including changes in your employment, compensation, savings or debt obligations. Once you have applied for a mortgage, we recommend that you delay any major expenditures until after your closing. Anything that impacts your financial situation can also impact your mortgage approval.
#9: Schedule Your Closing
Once your loan is approved and the titlework completed, our closing department will make arrangements with you to schedule the closing. You should advise your lender immediately if you or any other borrower on the loan will be unable to attend the closing to sign the final documents.
Three days before the scheduled closing, you will receive a Closing Disclosure from your lender. It will contain details about your loan, including the loan terms, projected monthly payment, fees, and closing costs. It should match the details in the Loan Estimate you received from your lender at the time the interest rate was locked. It will also include the final amount of funds needed to be wired to the title company or closing attorney. Due to wire fraud risk, always call the settlement office directly to confirm the wiring instructions.
Be sure to review your Closing Disclosure in detail ahead of the closing to ensure there is time to make any desired changes or correct any errors. This is also the right time to ask any questions you may have. Keep in mind that you should still plan on reading through the closing documents on the day of the closing.
Conclusion
Applying for a mortgage may seem like a daunting prospect, but if you follow the 9 tips we've provided here, you can expect a streamlined process and an easy transition to your new home.
Are you in the market for a lender for your loan? Click here to read about the loan options at SIRVA Mortgage and start the pre-approval process now.