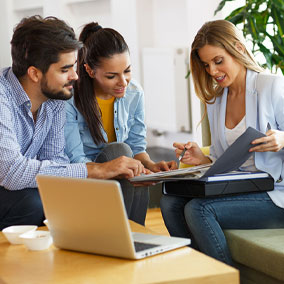 Navigating the Mortgage Process Maze
Whether you're a first-time home buyer or relocating to a new city, getting through the mortgage process requires your time, attention, and focus. You'll need to find a house, make an offer, gather documentation, and find a reliable mortgage lender with reasonable rates and the terms to fit your needs.
At SIRVA Mortgage, we help our clients navigate the mortgage loan process every day. We do everything we can to simplify the process and make it as easy for you as possible to buy the perfect home for you. Here's what you need to know.
What Does the Mortgage Process Involve?
The home mortgage loan process is complicated and can be difficult to understand if you have never been through it before. While the complexity might be intimidating, there is a reason that the mortgage underwriting process takes a while. For most people, a house is the biggest purchase they will ever make. Your mortgage lender will be loaning you a large sum and they need to be confident that you will have the ability to repay it.
The underwriting process is designed to ensure that your lender has a clear and complete picture of your financial situation. It is your responsibility to provide the information necessary to verify the information on your loan application. They will review the documents you submit and use manual underwriting, automated underwriting, or a hybrid of the two methods to evaluate your creditworthiness and make a decision about whether to grant you a mortgage loan.
The thing that a lot of first-time buyers must understand is that the mortgage process requires patience. While the process may vary slightly depending upon the lender you choose, it will take time for the underwriter to review, verify and analyze your overall financial situation. At SIRVA Mortgage, we strive to move your loan through the underwriting process as quickly as possible.
The best general advice we can provide is for you to learn about the process ahead of time, organize and prepare the documents you will need to get a mortgage pre-approval and complete your loan application, and have a realistic expectation of the amount of time and effort it will take to obtain the financing you need for your new home. Now let's get into some specific advice to help you better navigate the process from beginning to end.
Check Your Credit Report
Before you choose a lender and begin the mortgage process, we suggest that you check your credit report. You can obtain a free credit report every 12 months from each of the three major credit bureaus, Equifax, Experian, and TransUnion. You can obtain your reports on this website.
As a general guideline, the minimum credit score required for a low down payment FHA or VA loan is 580. Lenders may each have their own loan program guidelines so this may vary depending on the lender you choose, and there are lenders who are willing to work with you even if your credit history isn't perfect. You can improve your credit score by paying down credit card debt, limiting the amount of new credit for which you apply, and making on-time payments.
The benefit of checking your credit report before you apply for a mortgage loan is that it provides you an opportunity to correct any errors and give you the best chance of getting approved for your loan.
Set a Budget
The next step in the mortgage loan process is to set a budget. Your budget will guide you when you apply for pre-approval and increase the chances of your mortgage getting approved.
If you're not sure where to begin with your budgeting, we have resources to help. You can find the SIRVA Mortgage calculators here. We recommend using a calculator to estimate how much you can afford to borrow and a feeling for what your monthly payment might be. Remember, your mortgage lender's primary concern is your ability to make your monthly payment and you should also think about your comfort level in taking on this new debt obligation.
If you have money saved for a down payment, you should factor that into your budget. You may be able to buy a home with a down payment as low as 0% to 3.5%; however, saving a higher percentage of the purchase price can help you save money in interest. It may also make you a more attractive buyer to sellers and less of a risk to lenders with more "skin in the game".
Apply for Mortgage Pre-Approval
When you get pre-approved for a mortgage, it makes your offer more attractive to sellers and increases the chances that your offer will be accepted. For that reason, we recommend a pre-approval, instead of a pre-qualification, before you begin looking at houses.
At SIRVA Mortgage, we have simplified the pre-approval process into a streamlined, paperless online asset verification. To get pre-approved with us, you'll need the following items:
Current pay stubs or offer letters for all applicants

W-2s for the past two years

Latest bank statements
If you are self-employed or part of the gig economy, you may not have W-2s but you will still need to provide proof of your income. Tax documents that may be required include 1099s from clients or copies of tax returns.
Once we receive your information, we'll review your documents and issue a Verified Pre-Approval letter for you to present to sellers. While a pre-approval is not a guarantee that you will be granted a mortgage loan, it shows that your application information and preliminary creditworthiness has been verified which helps sellers to feel confident that you will be able to get the loan you need.



Mortgage Application and Processing
When you find a home you want to buy, you will make an offer to the seller. If they accept it, you'll sign a purchase agreement and contact your Mortgage Consultant, who will assist you in locking in your interest rate when the time is right. You will then be introduced to a loan processor who will begin the underwriting process for your mortgage.
Your loan processor will prepare a preliminary checklist for you and it will be your responsibility to provide any updated or additional documentation required. Underwriting will go smoothly if you are meticulous with the information you provide. To expedite your loan process, you should be sure to follow these instructions:
Include all pages of any asset statements you are asked to provide, including all pages even if they are blank. Missing pages may indicate missing information that's required to approve your loan.

Provide documentation of any large deposits that aren't part of your regular pay. The underwriter will need to determine the source of any funds that may affect your ability to make your mortgage payments, such as a loan you would have to repay.

Avoid making large purchases or applying for any new credit between the time you apply and your closing. If you spend money that's in your savings account or acquire additional debt, it could impact your ability to qualify for a mortgage.
Once the checklist is complete, the underwriter will begin the process of evaluating your application.
What Happens During the Underwriting Process?
The purpose of mortgage underwriting is to determine whether you and any co-borrowers have the financial means to make monthly mortgage payments and have a history that shows that you are likely to do so.
The underwriter will review your submitted application and documentation. They will verify your income from all sources, including your regular paycheck, alimony or child support, dividends, and any side gigs you may have. They will also verify your down payment funds by reviewing your account statements.
A review of your credit report will help the underwriter understand your complete financial situation and your reliability when it comes to money management. If you regularly meet your commitments and make on-time payments, it's a good indication that you will do the same with your home loan.
Another part of the mortgage process you should know about is the ratios that the underwriter will look at to decide whether you can afford your monthly payment and whether the property you plan to buy is acceptable collateral for the loan.
Your debt-to-income ratio is calculated by taking your total monthly debt and dividing it by your gross monthly income. If you have $2,500 in monthly debt payments, including your credit cards, car loan, and student loans, and gross monthly income of $8,000, your DTI would be 31.25%. You may have heard that lenders require a DTI of 43% or lower to approve a mortgage. The reality is that there are programs available if your DTI is over 43% but there may be limitations.

The loan-to-value ratio of the property you are planning to buy. This ratio is calculated by taking the amount of the loan being requested and dividing it by the appraised value of the property. If you needed a loan of $400,000 to buy a home that was worth $440,000, the LTV ratio would be 90.9%. For most lenders, the maximum LTV they will consider is 95% for a conventional mortgage loan.
The DTI helps your underwriter measure your ability to make your monthly loan payments and the LTV helps them measure the lender's risk. They want to be sure the lender can recoup their money by selling the house should that become necessary.
Another element of underwriting that you should know about is the title search. A title search is performed by a title company whose job it is to verify that the current owner of the home has a clear title, meaning that it is unencumbered by liens and judgments. The presence of an encumbrance, which could include anything from a construction lien to a judgment for past child support, could delay the purchase of a home. The encumbrance will need to be resolved before the closing.
After the underwriting is complete, you will receive formal notice of your approval or rejection. If you are approved, the next step is for the loan closer to prepare the loan documents for your review and for you to schedule the closing.
Mortgage Closing
The final step in the mortgage loan process is the closing, which is when you sign the final documents and take ownership of your new home. At SIRVA Mortgage, your loan closer will prepare your final loan documents and your Closing Disclosure. The Closing Disclosure must be provided to you three days prior to the closing date. It will contain details regarding your loan amount, projected monthly payments, and other loan terms as well as an itemization of your closing costs and the amount of funds you will need to bring to closing. Be sure to review this document and let your loan closer know about any errors.
Your loan closer will contact you to review any questions you have regarding the final documents and to schedule the closing. Before the closing, you should confirm that you and your co-borrower (if applicable) will be able to attend the closing. We prefer all parties be present, but if that's not possible letting us know ahead of time will allow us to accommodate your needs and avoid possible delays in the closing.
This is also the time to make sure that you have confirmed with your closing attorney or title office how you will get your funds to the closing. In some areas, you may be able to provide a certified check, or you may be required to wire the funds. Due to the high risk of wire fraud, wiring instructions should be verified verbally with your closing attorney or the title office.
During the closing, you will sign the final documents for your mortgage. Once the closing attorney or title office receives your funds and the loan proceeds from the lender and signing is complete, your loan closer will be notified by the settlement office, your loan proceeds will be distributed, you will receive your keys -- and you'll officially be a homeowner!
SIRVA Mortgage has loan options for every budget. Click here to learn more and achieve your dream of homeownership.