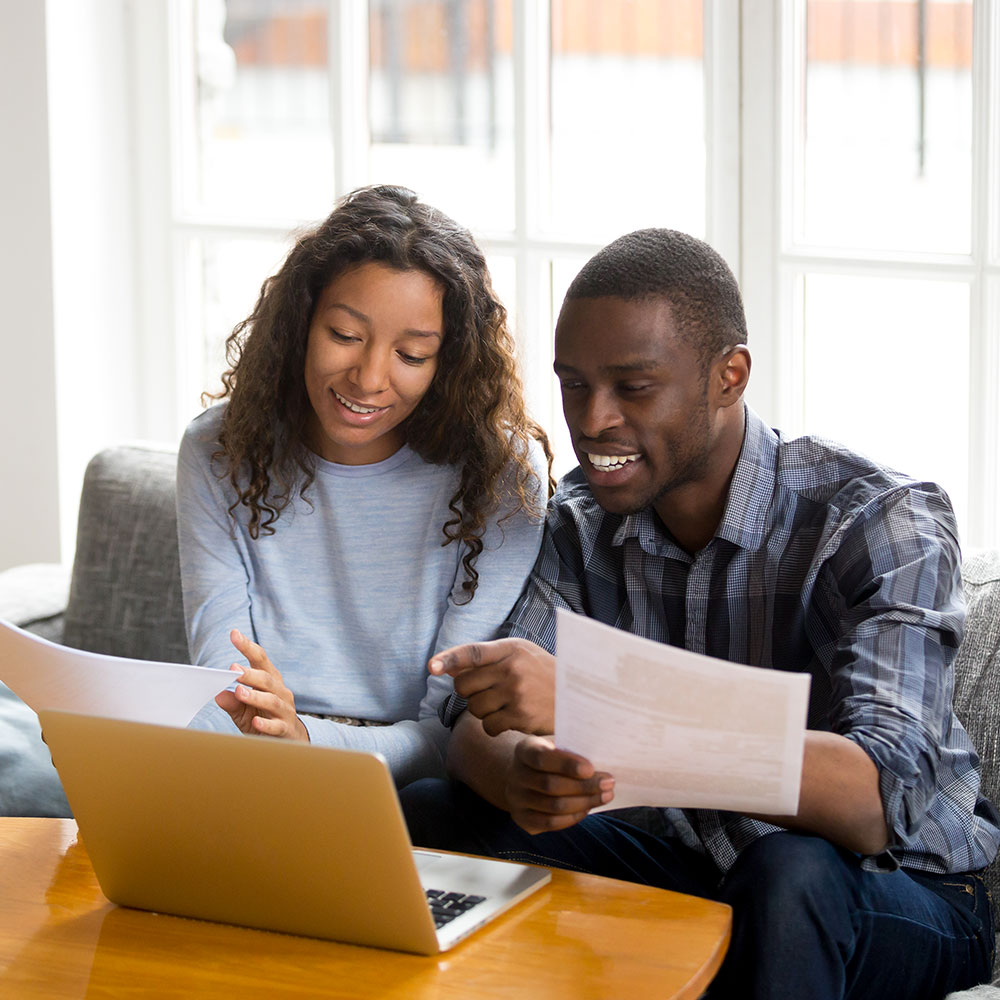 Conventional Mortgage Pros and Cons
When you decide to buy a home, whether it's your first home or you want to upsize or downsize, you'll need to consider your mortgage options. One of the biggest decisions to make is whether a conventional mortgage or a non-conventional mortgage is best for you.
At SIRVA Mortgage, we work with borrowers every day to match them with the mortgage that's best suited to their needs and qualifications. To help you understand the differences between conventional and non-conventional mortgages, we've created this guide with conventional mortgage pros and cons. Here's what you need to know.
What is a Conventional Mortgage?
To put it very simply, a conventional loan is not insured or guaranteed by the government. Examples of non-conventional (government loans) are FHA, VA and USDA loans. A conventional loan is granted by a conventional lender, whether it's a company that specializes in mortgage lending or a depository bank or credit union.
A conventional loan may be conforming or non-conforming. A conforming loan must adhere to standards set by Fannie Mae or Freddie Mac. A non-conforming or jumbo loan does not need to adhere to those standards
Some conventional loan programs can have down payments as low as 3%; however there are restrictions, such as you need to be a first time homebuyer or purchase in a low to moderate income census tract. Most conventional loan programs require a minimum down payment of at least 5%.
When you obtain a conventional loan to buy a house, you have flexible options in terms of the amount you can borrow and the types of property you can buy. You won't be bound by a loan limit that might prevent you from buying a high-priced home or buying an investment property with a government-backed loan.
It's important to note that many lenders who offer conventional mortgages also offer government-backed mortgages.
Differences Between Conventional and Non-Conventional Mortgages
Depending on your financial situation and credit history, you may have the option of either a conventional mortgage or a non-conventional mortgage. Here are some key differences that you should understand.
Underwriting Standards
Perhaps the biggest difference between a conventional mortgage and a mortgage insured or guaranteed by the government, such as an FHA loan or a VA loan, is the underwriting standard used to evaluate a mortgage application.
Most lenders who offer conventional mortgages require that a borrower has a minimum credit score of 620. That number isn't carved in stone and different lenders may be willing to work with borrowers whose scores are lower.
Another common underwriting standard for a conventional loan is the debt-to-income ratio. In many cases, the mortgage lender will require the borrower to have a DTI that is less than 43%. Here again, some lenders are more flexible than others.
With a government insured or guaranteed loan, the underwriting requirements tend to be more relaxed. For example, you can get an FHA mortgage with a FICO score as low as 500, however most lenders require a minimum score of 580.
The reason that underwriting standards tend to be tighter for a conventional mortgage loan is that the lender takes on more risk than they would with a government insured or guaranteed loan.
Down Payment Requirements
When you qualify for an FHA mortgage or VA government program, you may be able to buy a home with no down payment or a very low down payment. In most cases, you can secure a conventional loan with down payments as low as 5%.
If you want to buy a higher priced home, that requires a loan that is greater than conforming loan limits, some lenders may require a 20% down payment. People who get loans through the FHA may need a 10% down payment if their credit score is low but many people get FHA loans with only a 3.5% down payment.



Lending Amounts
The FHA and other government agencies typically cap loan amounts for borrowers. For example, the 2021 limit for most of the country for an FHA loan is $356,362.
With a conventional loan, there is a much higher cap on the amount you can borrow if you get a non-conforming or jumbo loan. A lender may not be willing to lend you the amount you want, but that decision will be based on your credit history and financial situation, not on a predetermined lending limit.
Mortgage Insurance
One major difference between a conventional and non-conventional home loan is the requirement for mortgage insurance.
As a general rule, a private lender will require a borrower to buy private mortgage insurance unless their down payment is at least 20%. With conventional private mortgage insurance; however, the insurance cancels automatically once you've reached 22% equity in your home (or 78% LTV).
If you obtain an FHA loan, you will be required to pay an upfront mortgage insurance premium as well as a monthly premium, regardless of your down payment.
Pros of a Conventional Mortgage
Flexible Down Payments
Many first-time homebuyers we talk to think they need a 20% down payment to buy a house. Even if they know that government insured or guaranteed loans are available with lower down payments, they still think that they'll need to save 20% to qualify for a conventional mortgage.
The truth is that many lenders will grant a mortgage even if you have only a small amount for a down payment. If you can put 20% down you won't need to pay for mortgage insurance, but having less than 20% doesn't necessarily preclude you from getting a conventional loan.
Flexible Mortgage Rates and Terms
With a conventional mortgage, there are a variety of repayment terms available, usually from 10 to 30 years. For most loan programs, the lower your term the lower your rate; and although you would have a higher monthly payment, you would likely pay less interest in total and build equity in your home faster.
You could also explore adjustable rate (ARM) conventional mortgages. This is an option to consider if you don't want to stay in your home for a long period of time, plan to refinance within a few years, or will pay off the mortgage quickly. An ARM generally has a lower fixed rate at the beginning of your loan – usually 5, 7, or 10 years – which could save you thousands in interest. However, after the initial period, your rate and mortgage payment would be subject to change, and – based on the market rate – could vary up and down for the remainder of the loan term.
Higher Loan Limits
As we mentioned before, there are limits on the amount you can borrow if you go with a non-conventional government loan program. With FHA loans, there's a lower cap on how much you can borrow compared to a conventional loan and you may also be limited regarding the size and type of house you can buy.
No Upfront Mortgage Premium
FHA loans require a mortgage insurance premium paid up front as well as a monthly premium. The monthly premium is for the life of the loan unless you have a down payment of 10% or more. In that case, the premium drops off after 11 years. With a conventional loan, you'll only need to buy private mortgage insurance if your down payment is less than 20% of the purchase price of your home and it will cancel automatically when your LTV reaches 78%, no matter what your original down payment was.
Flexible Appraisal Requirements
Both FHA and VA have stricter appraisal guidelines than conventional. The VA, for example, requires that the appraisal be performed by a VA appraiser. The VA and FHA also tend to be more restrictive when it comes to the condition of a property. Many times government appraisals require more repairs be made to the property before the closing can take place than a conventional appraisal of the same property.
Vacation and Rental Properties
Finally, unlike government loan programs, you can buy any type of property with a conventional loan and the house you buy doesn't need to serve as your primary residence. For example, you could buy:
A vacation home

A second home

A rental property
You can also buy land where you want to build a home. There's far more flexibility in what you can buy with a conventional loan.
Cons of a Conventional Mortgage
There are some downsides to choosing a conventional mortgage. These include the following:
The underwriting guidelines are almost always stricter than they would be for a government insured or guaranteed loan. Generally lenders require a minimum credit score of 620 and you should expect greater scrutiny of your credit history and finances.

For non-conforming loans, there is no set of universal guidelines to help you determine whether you will be approved. Individual lenders set their own guidelines and some are more flexible than others.

If you obtain a conforming loan; however, it will be underwritten to either Fannie Mae or Freddie Mac guidelines.
The key takeaway here is that with a conventional loan, there are stricter underwriting standards than there are with government loans. That said, there are plenty of lenders who offer flexible underwriting guidelines and are happy to work with borrowers to achieve their dream of homeownership.
Conclusion
When you want to buy a home, there are some significant benefits to getting a conventional mortgage. The information we've included here will help you navigate the process and decide whether a conventional mortgage is right for you.
Are you in the market for a conventional mortgage? Start the pre-approval process now.