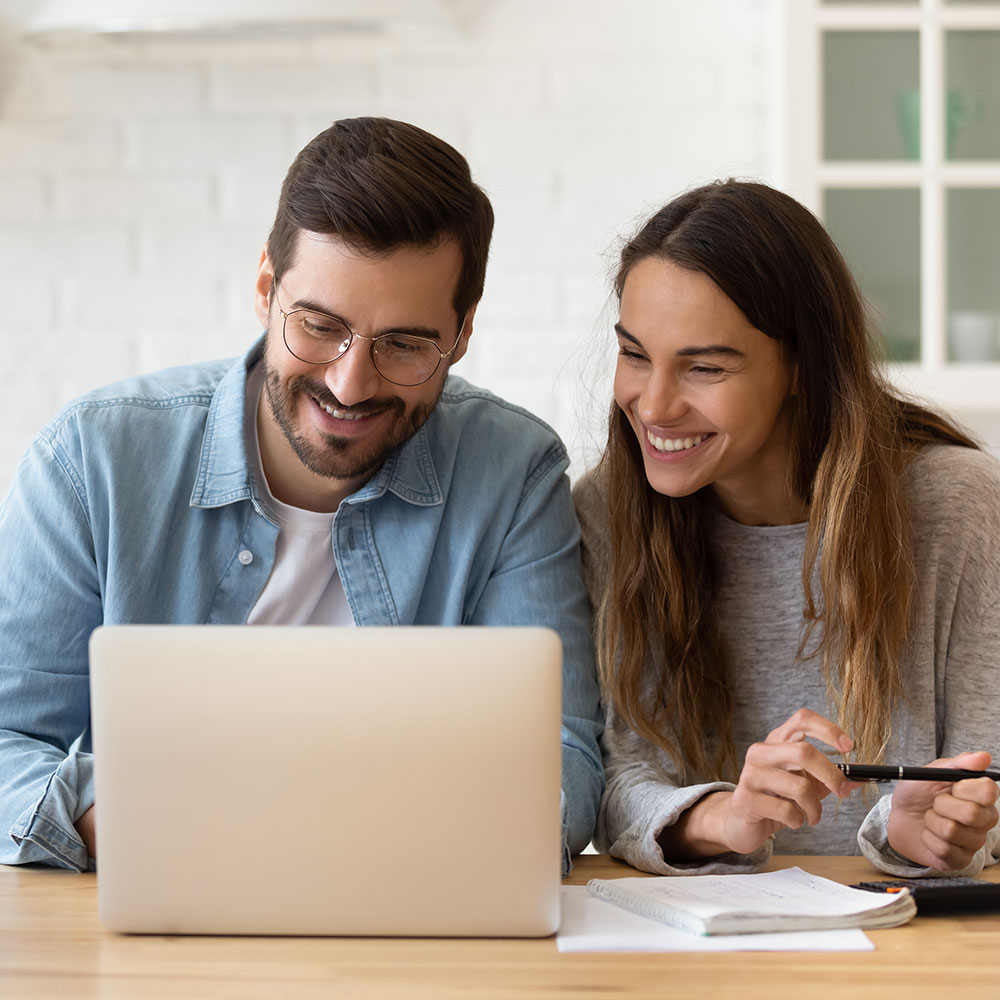 Understanding FHA Loans and Application Requirements
Buying a home is a big decision and the process of qualifying for a mortgage might feel daunting if you've never done it before. It's common for first-time homebuyers to need assistance understanding the mortgage loan process. Specifically, people who have struggled with their credit in the past may need help qualifying for a loan, and that's where the Federal Housing Administration, or FHA, loan program comes in.
SIRVA Mortgage specializes in helping homebuyers at every level to find the loan that's best suited to their credit history and financial status. Getting an FHA loan is one of the easiest ways to qualify for a mortgage. Here's what you need to know about the FHA loan application process.
What is an FHA Loan?
FHA loans have less stringent requirements than many conventional or jumbo loans, so they are often easier to qualify for.
The FHA was founded in 1934 in the midst of the Great Depression. At that time, most families in the United States rented their homes because they couldn't afford to buy. More than two million construction workers were out of work and as a result, the housing market was in a slump. Mortgages were limited to 50% of a home's value and had short terms of only three to five years with a balloon payment required at the end of the term.
In 1965, the FHA became part of the Department of Housing and Urban Development. Over the years, the FHA has been a stabilizing force during times of recession and high inflation, making it possible for more people to own homes than ever before. Funding from the FHA during the 1960s and 1970s made the construction of millions of affordable rental units possible.
The FHA insures loans made under their programs. The insurance allows an FHA approved lender to offer lower down payment options and better interest rates than they would otherwise be able to offer without conventional mortgage insurance. An FHA home loan is easier to qualify for than a conventional loan and can put the dream of homeownership within reach for people who might not have a perfect credit score. As of 2021, the FHA insures approximately eight million single-family homes. They also insure mortgages for multi-family properties, residential care facilities, and hospitals.
What Are the FHA Loan Application Requirements?
In order to qualify for an FHA loan, you will need to complete a mortgage loan application to submit to an FHA lender. While some lenders might have stringent requirements for loans that aren't insured by the FHA, the requirements for an FHA mortgage are clearly delineated and easy to understand.
Credit Score
The first FHA loan requirement you'll need to know about is the FICO score requirement. While applicants for a conventional mortgage might need a high credit score, particularly for a jumbo loan, an FHA applicant has a much lower threshold to meet in order to qualify for the loan program.
FHA loans use credit scores to determine the required down payment amount. You may have seen lenders advertise that the minimum credit score required for an FHA loan is 580. However, some lenders do offer FHA loans for borrowers with credit scores between 500 and 579. Be mindful that if your credit score is in that range, you may be required to make a larger down payment to compensate for the lower score.
Down Payment
If you qualify for an FHA mortgage loan, you will need to meet the specified requirement for down payments. As we mentioned above, the down payment amount is based on your FICO score and there are two tiers.
If your credit score is 580 or higher, then your minimum down payment amount is 3.5% of your home's purchase price. In other words, if you bought a home worth $200,000, your minimum down payment would be $7,000. If you put down more than the minimum, you would benefit from a lower mortgage payment.
For an FHA homebuyer with a credit score between 500 and 579, the down payment requirement is higher, coming in at 10% of the purchase price. Keep in mind that there may be down payment programs available to help you meet this requirement.



Mortgage Insurance
Mortgage insurance is another requirement for an FHA insured loan. There are two separate premiums required. The first is an up-front premium, or UFMIP, which is equal to 1.75% of the loan amount and can be financed or rolled into the loan, so you won't need to pay the premium out of pocket at the time of your closing.
The second premium that is required is the monthly mortgage insurance premium or MIP. This premium is calculated annually based on the average outstanding principal balance of the loan over the previous 12 months. The calculation for the MIP can be complex because it is based on your down payment, loan amount, and loan term.
Debt to Income Ratio (DTI)
The debt-to-income ratio is a measurement of how high your monthly expenses are compared to your gross income. You can calculate your DTI by taking your total monthly financial obligations, including your housing payment, credit cards, car payment, and any other debts you owe, and dividing it by your gross monthly income.
For an FHA mortgage, the requirement is that your DTI is less than 43%. If you earned a gross monthly income of $5,000, that would mean your total payments per month would need to be less than $2,150 to qualify.
Primary Residence
If you want to qualify for an FHA loan, the residence you buy must be intended to serve as your primary residence. That means the dwelling may not be used for any of the following:
A rental property

A vacation home

A business
While the FHA does insure multi-family residences, you must live in the residence to qualify for a mortgage with the FHA.
Income & Employment
The final requirement for an FHA loan is that you must have proof of employment and steady income. That means you'll need to provide pay stubs and other proof that you have a steady job.
The FHA does not specify a minimum income amount for borrowers. When you apply through an FHA mortgage lender, they'll use your credit score and DTI to determine whether you can make the proposed monthly mortgage payment.
Limitations of FHA Loans
If you are interested in an FHA loan, you'll need to be aware of certain limitations they have in place for their loan programs.
Lending Limits
The FHA sets both a lending floor and a lending ceiling. The floor is not meant to indicate the lowest amount you can borrow. Rather, it is a number that the FHA has deemed will cover approximately 80% of the mortgages they insure.
For 2021, the mortgage floor for FHA loans for single-family homes is $356,362. The floor is calculated by taking the national limit for conforming loans and multiplying it by 65%. The limit in areas that fall between the floor and the ceiling is 115% of the median home price. These limits serve as FHA lending guidelines. We understand that this may be confusing and we encourage you to get in touch to understand the FHA lending limits in the area where you want to buy a home.
The ceiling amount is the highest amount you can borrow from the FHA. It applies only in areas that the FHA determines to be high cost, meaning that the floor amount would not be enough to buy a home. The ceiling amount for 2021 for a single-family home is $822,375.
The lending limits can vary from county to county. The FHA maintains a comprehensive list of limits by county. You can find it on the FHA website, here.
Property Requirements
The other limitations you will need to know about affect the type of property you can buy. FHA loans are available only when a property is deemed to be "safe, sound, and secure."
According to the FHA, a property bought with an FHA home loan must meet the following minimum requirements to qualify.
It must meet local building codes.

The products used in its construction must be durable.

It must be livable according to FHA standards.
The FHA uses the property appraisal process to determine the safety and livability of the property being purchased. An appraisal is a normal part of the underwriting process for any lender.
The key takeaway here is that the FHA has created these guidelines and requirements to protect themselves, since they insure all FHA mortgages. However, the property safety requirements protect borrowers as well. Nobody wants to buy a home that isn't safe.
Benefits of FHA Loans
There are some significant benefits to the FHA loan program that you should know about.
FHA loans are designed to help people who might not be able to qualify for a traditional home loan. They have less stringent application requirements which make it easy for people to achieve their dream of homeownership.
The down payment requirements for FHA loans are lower and more flexible than they may be for other loans. You don't need to have a lot of money saved for a down payment to qualify for an FHA mortgage.

There are no income limits for FHA loans. Provided you meet the credit score and DTI requirements, you can qualify for an FHA mortgage and buy a home for you and your family.
The FHA loan requirements are designed to help people who might not be able to qualify for a mortgage to achieve their dream of owning their own home. Many lenders, including SIRVA Mortgage, are FHA approved and work with FHA borrowers every day.
Conclusion
The FHA loan program is something that was designed to help people in the United States buy a home even if they were unable to meet the requirements under conventional loan programs. Millions of people who own homes today were able to achieve their dream thanks to the FHA.
Do you want to buy a home using an FHA loan? We can help! Click here to get matched with a Mortgage Consultant and start the loan application process.