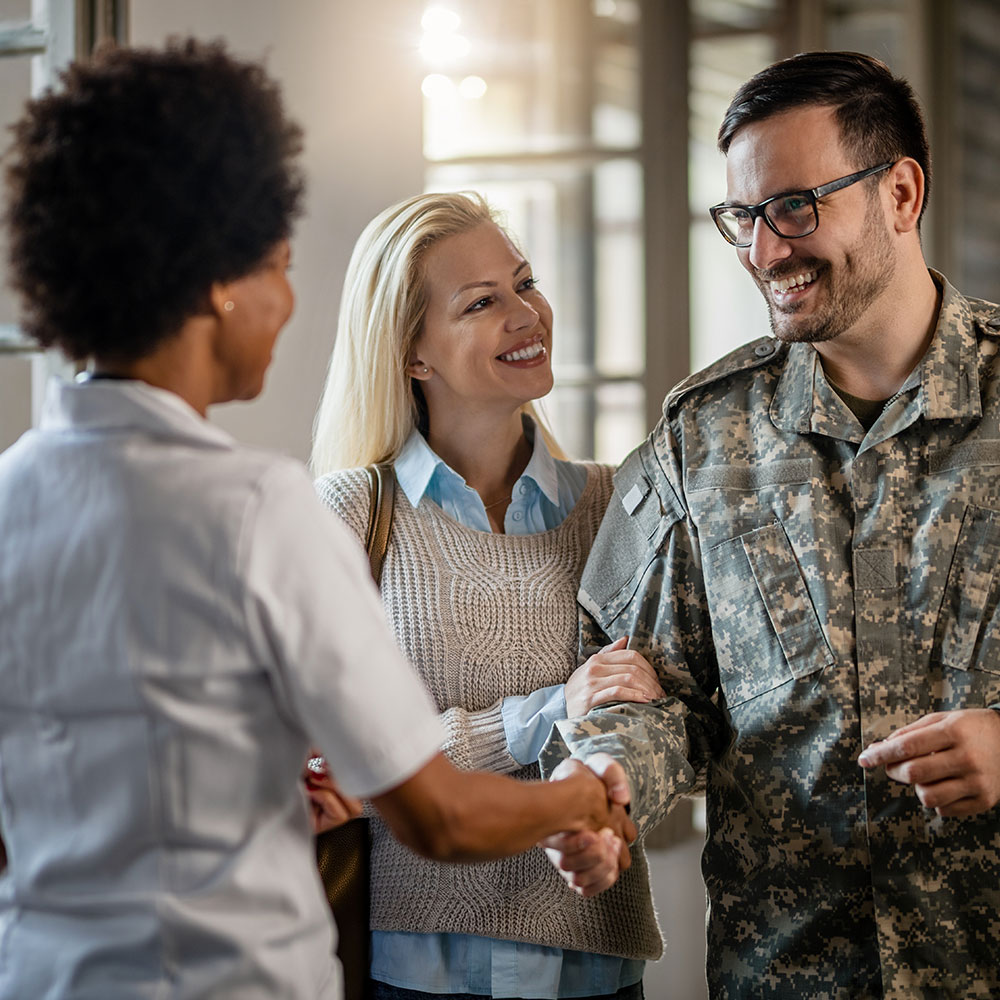 Essential VA Loan Requirements Guide
The brave men and women who serve the United States in the Armed Forces deserve our respect, admiration, and gratitude. While parades and public thanks are lovely, we have also decided, as a country, that more tangible benefits should accompany a life of service.
The Veterans Administration loan program is one of those benefits. Its goal is to help active duty service members, veterans, and their families achieve their dream of homeownership at affordable prices. SIRVA Mortgage is proud to offer VA loans to qualified borrowers. Here's what you need to know about the requirements for a VA home loan.
What is a VA Loan?
The VA loan program originally came about as part of the Servicemen's Readjustment Act, which was passed in 1944 as part of an initiative to offer assistance to veterans of World War II who were returning home. More commonly referred to as the G.I. Bill, the legislation offered employment assistance, tuition reimbursement, and other benefits to the men and women who served in the war.
In its history, the VA loan program has provided home loans to more than 24 million qualified active service members, veterans, and their surviving spouses. The VA designates eligible areas as housing credit shortage areas. These are usually small cities and towns as well as rural areas. The loans can be used to buy a home in an eligible area or to construct or repair a home.
While the program originally placed limitations on which service members could qualify, a modification in 1992 opened up the VA loan program to National Guard personnel and reservists who served honorably for at least six years even if they did not have the active service required under the earlier rule.
VA loans require no down payment from borrowers and the VA guarantees part of the loan, making it possible for qualified borrowers to get a lower interest rate from a VA lender than they might qualify for from a traditional lender.
A qualified veteran may use the VA loan benefit as many times as they want provided they pay off the preceding loan. There are no borrowing limits and there is no mortgage insurance requirement thanks to the VA's guaranty.
You can get a VA loan even if you have experienced financial hardship such as a bankruptcy or a foreclosure – even if the foreclosure was on a VA loan. The program is designed to eliminate the obstacles that might prevent our service men and women from being able to afford a home.
Who is Eligible for a VA Loan?
The eligibility requirements for a VA home loan are straightforward and easy to understand. You will need to meet both of the requirements regarding length of service and the type of service.
VA loans are available to people in the following categories if they meet the service requirements.
Active duty military members, including reservists and those in the National Guard

Military veterans

The surviving spouses of veterans provided they have not remarried
To find out if you qualify, you must apply for a Certificate of Eligibility through the Department of Veterans Affairs. You must fall into one of the three categories listed above and meet the requirements for length of service. You can find a table of requirements here and you should keep in mind that the requirements are waived for service members who were discharged for a service-connected disability.
If you were not discharged honorably or do not meet the service requirements, there are still some ways you may be able to qualify. You can check the VA website to find more information.
What are the Requirements for a VA Loan?
We have mentioned some of the requirements for a VA loan, but it's time to dig a bit deeper to help you understand the VA mortgage requirements before you apply.
Service Requirements
The most complex element of the requirements for VA loan eligibility is the service and discharge requirement. The requirements vary by date, with more relaxed guidelines for veterans and service members who served during times of war. Note that all requirements are less for people who were discharged for a service-connected disability.
World War II (September 16, 1940 - July 25, 1947) -- 90 total days.

Post WWII (July 26, 1947 - June 26, 1950) - 181 days.

Korean War (June 27, 1950 - January 31, 1955) - 90 days.

Post-Korean War (February 1, 1955 - August 4, 1964) - 90 days.

Vietnam War (August 5, 1964 - May 7, 1975) - 90 days.

Republic of Vietnam (February 28, 1961 - May 7, 1975) - 90 days.

Post-Vietnam War (May 8, 1975 - September 7, 1980) - 181 days.

Pre-Gulf War (September 8, 1980 - August 1, 1990) - 24 continuous months or the full period you were called to active duty.

Gulf War - present (August 2, 1990 - present) - 24 continuous months or the full period you were called to active duty.
The requirement for reservists and National Guard members from the Gulf War to the present is 90 days of active service. For people who served prior to August 2, 1990, the requirement is six creditable years with an honorable discharge, retirement, or placement on the Selected Reserve.



Income Requirements
One of the hallmarks of VA loan eligibility is the income requirement and specifically, the lack of a maximum income cap to qualify for a VA home loan.
That said, there are requirements about income that determine your eligibility.
You must have verified, full-time income. For the purposes of qualifying for a VA loan, full-time income is defined as coming from a job that requires you to work at least 30 hours per week. For veterans who are self-employed, verified income is taken from your latest tax returns. The Program guidelines require at least a two-year self-employment history with reliable income, and a preference for year-over-year increases.
There are some exceptions for part-time employment. If the VA determines that there is a two-year history of consistent part-time employment and a strong likelihood of a continuance of that employment, they may make an exception.
There are rules about income not related to employment as well. You may use income from disability, dividends, interest, pension funds, or retirement funds, provided that the VA or your mortgage lender can verify receipt of that income for the last two years plus an expected continuance of three years or more.
Types of VA Loans
There are several types of VA loans for which you may be able to qualify as an active service member, veteran, or surviving spouse.
Purchase Loans
Purchase loans are designed to help you buy a home with no down payment or private mortgage insurance and a competitive interest rate.
Also falling under this category are Cash Out Refinance loans, which allow qualified service members and veterans to borrow cash against their home equity for home improvement, college tuition for dependents, or debt repayment.
With a VA guaranteed purchase loan, you can borrow up to the Fannie Mae and Freddie Mac limits with no down payment. In most cases, you will be able to get a lower interest rate with your lender if you apply for a VA loan. There are also no penalties for early repayment of the loan.
Interest Rate Reduction Refinance Loan (IRRRL)
The IRRRL is also known as a Streamline Refinance Loan. Its purpose is to help qualified service members and veterans get a lower interest rate when they refinance an existing VA mortgage loan into a new VA loan. The IRRRL does not require the lender to run another credit report, although some lenders do require credit to be pulled. Other typical underwriting requirements are also waived such as an appraisal of the home and income verification, other than to prove that you are still employed.
You may be able to reduce your monthly mortgage payment using the IRRRL. One important thing to note is that if you have a second mortgage on your home, the holder of that mortgage must agree to remain in the subordinate lien position to the new VA guaranteed loan. In other words, the VA loan must remain in the first priority position.
Native American Direct Loan Program (NADL)
Native American Veterans can qualify for the NADL program, which assists in the purchase, construction, or improvement of homes located on Federal Trust Land. It may also be used to reduce the interest rate of an existing VA loan.
The other requirement for the NADL program is that your tribal government must have a Memorandum of Understanding (MOU) with the VA that details how the VA loan program will work on its trust lands.
Adapted Housing Grants
Military veterans who have a permanent and total service-connected disability can qualify to either purchase an adapted home, build a new home, or modify an existing home to accommodate for their disability.
Benefits of Getting a VA Loan
If you qualify, there are significant benefits to getting a VA Loan.
There is no down payment required.

The underwriting requirements are more relaxed than they would be with a conventional loan. (Credit score, debt-to-income ratio, etc.)

There is no mortgage insurance requirement. (With other low down payment mortgages, you would be required to purchase mortgage insurance to buy a home.)

There is no minimum income requirement or income cap, provided you have regular income as described above and can make your monthly mortgage payment, you can qualify for a VA loan.

The closing costs and fees associated with your loan are lower than they would be with a traditional mortgage.
There is one fee that applies to VA mortgages that you should know about. The VA funding fee is based on the size and type of your loan. You'll have the option of paying the fee when you close on your loan or rolling it into your loan amount. The VA waives the funding fee for veterans with service-connected disabilities and their surviving spouses, the surviving spouses of those service members who were killed in action, and Purple Heart recipients.
Conclusion
The VA loan program provides expanded opportunities for active service members, veterans, and surviving spouses to qualify for VA financing to buy a home, refinance an existing loan, or to modify a home if they have service-related disabilities.
SIRVA Mortgage is proud to offer VA loans. Click here to learn more or to begin the application process.