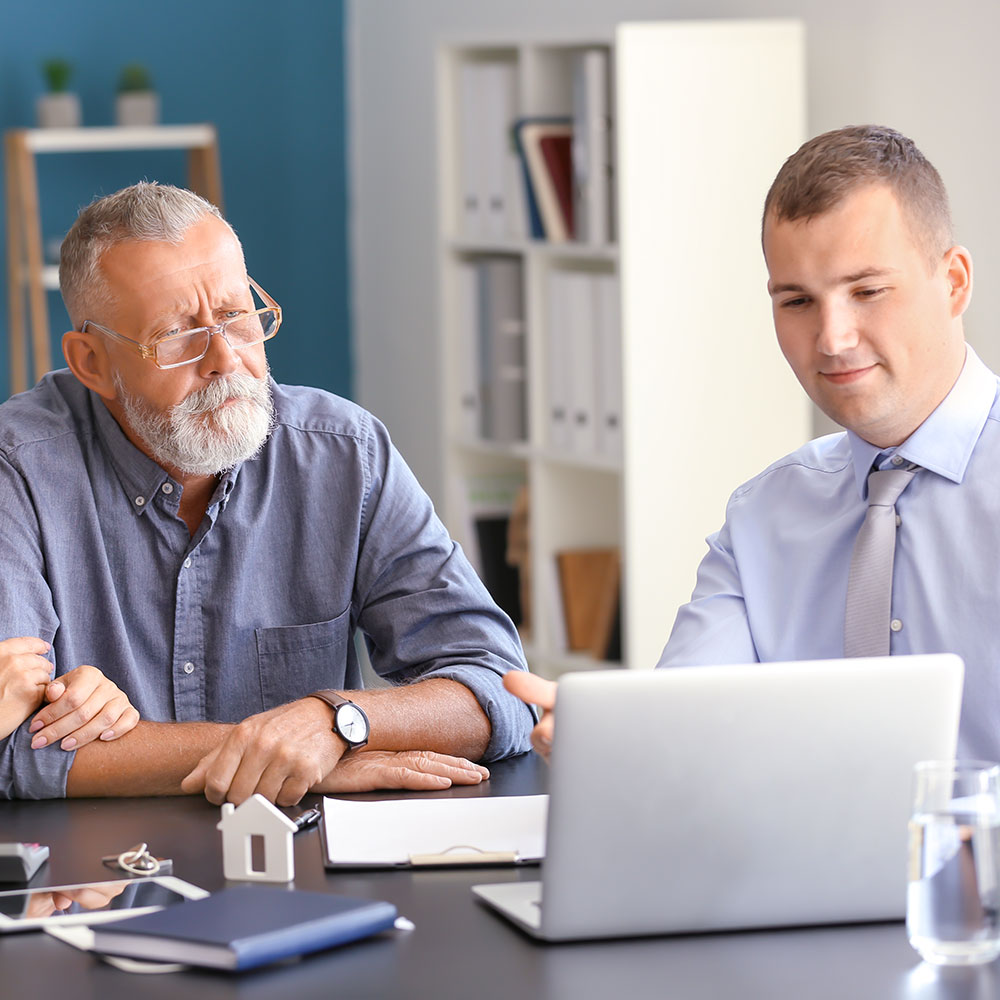 The Importance of an Experienced Loan Officer
When you approach a mortgage lender for help with buying a house, you may feel uncertain about the process and what you need to do. Having a point person who is there to answer any questions you have and guide you through the application process can be a huge help.
A loan officer is the first point of contact in the mortgage process and the person who will advise you how to streamline your mortgage application and navigate the underwriting process.
What Does a Loan Officer Do?
When you hear the words "loan officer," what do you imagine? It's a title that can sound intimidating if you've never applied for a mortgage before. The truth is that loan officers are called many things in the mortgage lending industry. Loan officers, loan originators or Mortgage Consultants (as they are called at SIRVA Mortgage), all have a similar function in the mortgage process.
A mortgage loan officer is a consumer-facing person who deals directly with mortgage loan applicants. Here are some of their job duties:
A loan officer is an employee of a single mortgage lender, bank, or any other financial institution. A mortgage broker is a little different in that they are basically the "middle-man" between you and a lender they choose to underwrite and close your mortgage loan.

When you initially speak with a loan officer, they will talk to you about different loan options and their terms. It's part of their job to answer questions and demystify the process of buying a home and obtaining a mortgage.

A loan officer does not make the lending decision for a mortgage. Underwriting is a separate function where your application and supporting documentation is reviewed and the credit decision is rendered. The loan officer's job is to answer all of your questions about the mortgage process and make sure that you feel comfortable with the process and the terms of the loan. They do however understand underwriting guidelines, and work to ensure that you are in the best position both with loan product terms and qualifications for loan approval.

Loan officers must be state licensed to discuss mortgage interest rates and originate loans. State licensing requirements are significant and designed to ensure your loan officer is adequately qualified to assist applicants in obtaining financing.

In many cases, loan officers work on commission. That means they have a vested interest in getting you to a closing. One key difference between a traditional loan officer and a SIRVA Mortgage Consultant is that our consultants do not work on commission.
Why It's Important to Work with an Experienced Loan Officer
When you are shopping for a new home, you may tend to take the loan officer for granted. It is important to ask questions and consider the importance of working with a loan officer who has the experience and communication skills necessary for a smooth mortgage application and underwriting process. Here are some of the benefits of working with an experienced loan officer when you buy a house.
Knowledgeable About Different Types of Loans
An experienced loan officer understands the various types of loans and can help you identify the best mortgage program for your needs and qualifications. For example, they will understand the difference between conforming and non-conforming loans, how jumbo loans work, and the requirements to get a government loan from the FHA or VA.

Understands Lending Requirements
Lending requirements can be complex and confusing since, in many cases, they vary from lender to lender. Your loan officer will be able to explain the requirements for government loans and conventional loans, including credit scores, debt-to-income ratios, and how your personal financial picture will translate into mortgage rates.
Can Guide Buyers Through the Mortgage Application Process
If you've never gone through the mortgage application process, or have not been through it recently, it can be a bit overwhelming. By working with an experienced loan officer, you can get the guidance you need. They'll be there to answer your questions and to ensure your application is complete before it's submitted to the underwriter.
Troubleshoots Problems
While everybody hopes for a smooth underwriting process, sometimes questions or obstacles arise. This is normal, but it can be stressful. When you have an experienced loan officer by your side, they can help to troubleshoot problems, answer questions, find solutions and be there to help get the approval of your loan back on track.

How a SIRVA Mortgage Consultant Can Help You Buy a Home
Every lending institution has loan officers, but at SIRVA Mortgage we've put our focus on our customers and providing the best experience possible. It's for that reason that the loan officer role is fulfilled by our licensed Mortgage Consultants.
There are some key differences between a traditional loan officer and a Mortgage Consultant. First and foremost, loan officers generally work on commission and our Mortgage Consultants do not. While there's nothing wrong with commission, we believe that it's in the borrower's best interest to deal with someone whose only job is to help them through the mortgage process. With commission out of the picture, your Mortgage Consultant can focus strictly on your needs and concerns.
Our Mortgage Consultants focus on consulting with you to ensure that you are being informed about the best options available to you based on your specific financial position. One key responsibility of the Mortgage Consultant is to assist you in getting pre-approved for a mortgage. When you're house hunting, you may need several pre-approval letters as you view multiple homes and make offers. Your Mortgage Consultant can help you obtain a Verified Pre-Approval to provide to sellers, which can put you in a stronger buying position.
Finally, when you work with SIRVA Mortgage, your Mortgage Consultant will be your point of contact from the moment you're matched. They'll help you get pre-approved for a mortgage, guide you through the formal application process and contract acceptance, and lock your rate prior to handing off your application to a Loan Processor and Loan Closer for final approval and closing.
Working with a Mortgage Consultant is a way to streamline the home buying and mortgage loan process. It ensures you'll have the guidance and expertise you need as you move toward your dream of homeownership.
Conclusion
Working with an experienced SIRVA Mortgage Consultant offers home buyers the best chance of a smooth, stress-free mortgage process. They will be there to answer all of your questions and help you navigate the entire mortgage loan process from application through closing on your new home.
Are you ready to begin the process of applying for a mortgage? Get matched with a Mortgage Consultant today!