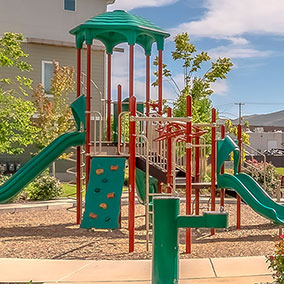 HOA Fees, Restrictions, and Benefits
You're comparing houses and you learn that one of the homes you're considering comes with a Homeowners Association, more commonly known as an HOA. What does that mean for your future plans?
At SIRVA Mortgage, we want our clients to understand all the ramifications of buying a home. With that in mind, here's what you need to know about HOAs, how they work, what they cost, and how they can benefit you as a homeowner.
The Basics of HOAs
It's always a good idea to start with the basics, particularly if you're a first-time home buyer. A homeowners association or HOA is an organization specific to a neighborhood or location. Its role is to make and enforce rules for the properties within its jurisdiction.
HOAs can exist anywhere but they are most common in:
Subdivisions

Neighborhoods of single-family homes

Planned communities

Condominiums
If you buy a house or condo in an area that has an HOA, you will be required to join and pay HOA dues. The board members of the HOA are property owners, usually people who live in the properties they own within the jurisdiction of the HOA -- although there are exceptions.
We should note that legally, an HOA and a condominium association are considered to be different although they serve many of the same purposes. The primary difference is that in a condominium, the association may take responsibility for maintenance of part of the condo structure.
A typical arrangement is that condo owners are responsible for "studs in" maintenance and repairs, while the association is responsible for "studs out." So, for example, the condo owner would be responsible for flooring repairs, while the condo association would take care of the deck.
If you do decide to buy a home in an HOA area, you should get a copy of the declaration and bylaws from either your real estate agent or the title company. Make sure you understand the costs, rules and restrictions before you buy.
What Do HOA Fees Typically Cover?
When you pay your homeowners association fee, you get something in return. The HOA board will provide maintenance and services in accordance with the HOA rules and governing documents. Here are the things an HOA fee may cover:
Amenities in any common area. These may include a pool, fitness center, game room, tennis court, or playground.

Maintenance for the property. This may include landscaping, trash, snow removal, and recycling services.

Repairs in common areas, including parking lots, roofing, exterior lighting, and mailboxes.

Exterior structures of residences. This inclusion usually applies only to condos and as we noted earlier, the studs in/studs out convention is a common way to dictate whether the responsibility of a repair belongs to the HOA or the property owner.
The monthly fee you pay to your condo HOA or HOA board will most likely be deposited into a reserve fund. The reserve is meant to be used for major repairs. In the event the reserve fund ends up falling short of the cost of needed repairs, fees may be increased as a result. This is especially true when the cost of building materials are in high demand. There will usually be an operating fund as well. The money there should be used for regular expenses such as landscaping, trash, and recycling services.
It's worth noting that in any HOA community, there's a strong likelihood that you'll be charged a late fee if you don't pay your monthly dues on time. There's usually a grace period of 10 days or so, after which the late fee will be assessed.
Common HOA Rules and Restrictions
As we mentioned earlier, one of the primary functions of any homeowner association is to create rules and restrictions for members. The explanation for these rules is that they optimize the property value and ensure that the neighborhood or community is well cared-for and a desirable place to live.
Let's look at some of the most common community association rules and what they entail.
Landscaping
Landscaping rules may include obvious things such as keeping your lawn trimmed and the exterior of your home neat. Others may be more restrictive, such as limitations on the types of plants and flowers you can put on your property.
Exterior Features
Some HOAs have strict rules about exterior features of a property in their jurisdiction, including paint colors, light fixtures, exterior storage, mailboxes and signs.
Architectural & Structural Features
It's quite common in an HOA community for there to be rules about altering the architectural and structural features of your property. For example, you might not be able to build a deck, patio, or balcony; put in different doors; or add an exterior storage shed without getting prior approval or incurring a penalty if prohibited.
Pets
Many HOA covenants have strict rules about pet ownership. Some are simply a matter of common courtesy, such as obeying local leash laws and cleaning up after your pet. There may also be breed and weight restrictions for dogs.
Laundry
Laundry rules generally relate to not hanging laundry out where it is visible to visitors and other residents. If laundry rooms are common areas, there may also be rules about hours of operation and cleanliness.
Trash/Dumpsters
There are few homeowners' associations that don't have rules about trash and recycling. There may be limitations on what you can dispose of in community dumpsters. You should also expect restrictions on when you can put your trash and recycling on the curb and when you're expected to bring it back in.
Vehicles/Parking Spaces
You should expect any planned community or neighborhood to have rules about how many vehicles you can have on the property and where you can park them. Many homeowners' associations ban recreational vehicles and boats, and many provide limited guest parking.
Noise
Noise rules are extremely common, particularly for people living in a condominium or townhome with common walls. Most HOA communities have quiet hours and violations may earn you a fine -- or at the very least, some sour looks from your neighbors.
Holiday Decorations
If you love decorating the exterior of your home for the holidays, make sure you do some due diligence regarding the HOA rules about holiday decorations. Some HOAs have a restrictive covenant that covers what type of holiday decorations are permitted as well as limitations on how long they may be displayed.
Rentals
One of the most common HOA covenants that you'll find has to do with renting property. You should expect to find rules about renter screening, sublets, and property owner liability for renter behavior.
Use of Common Facilities
Finally, you should expect that any HOA will have rules about the use of common facilities. For example, a community pool might have operating hours and the same might be true of a community clubhouse. Violating these hours could cost you an additional fee.



HOA Benefits
Even if you're someone who flinches at the thought of adding HOA payments to the other expenses of buying a home, you should know that there are some significant benefits to living in an HOA community. Here are some of the most important.
Community engagement. Many HOAs organize community events such as summer movies, holiday festivals, and block parties. These events can be a fun way to meet your neighbors.

Amenities. The chances are good that your community association will offer some amenities that are available to all property and condo owners. For example, you might have access to a pool, picnic area, barbecue pit, or park where your kids can play.

Limits on nuisance activity. HOA rules make it less likely that you'll have to deal with noisy neighbors and other inconveniences of daily life.

Support regarding municipal regulations/compliance. Dealing with local ordinances and rules can be a headache but if you have an HOA, they can serve as an intermediary to help you cope.

Property value. It's undeniable that the number one benefit of having a homeowner's association in your neighborhood is that it can help to keep property values high. By requiring homeowners to maintain their property, HOAs ensure that their communities have high curb appeal.

Repairs. A benefit to a condo HOA is you are likely not responsible for studs out repairs, which can be unexpected and expensive.
While some homeowners might chafe at paying association fees, the bottom line is that a well-run HOA can make owning a home less stressful and more enjoyable than it would be if you had to handle everything on your own.
Conclusion
There are significant benefits to living in an area with a homeowner's association. The most important thing to remember is that you should get the bylaws and other governing documents from your real estate agent or title company, and review them to make sure you understand the fees and restrictions before you make an offer.
Are you in the market for a mortgage lender to help you buy a house or condo?
Click here to apply with SIRVA Mortgage today!