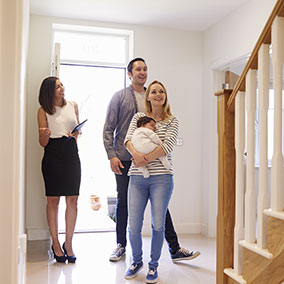 Low and No Down Payment Mortgages
How much money do you need to save for a down payment to buy a house? If you think that a large down payment is always required, you might be under the same misconception as many potential homeowners. In fact, there are several options for low or no down payment mortgages that may fit your needs.
Our mission at SIRVA Mortgage is to help buyers move into the homes of their dreams -- even if they don't have a large down payment saved. Every day, we work with people to help them learn about low and no down payment mortgage options that are available to them, so they can achieve their dream of homeownership as soon as possible. Here's what you need to know.
The 20% Down Payment Myth
As a potential home buyer, you may have heard that you need to make a 20% down payment to buy a house. This is a common misconception that often prevents a prospective borrower from pursuing a mortgage loan to buy a home.
Let's start with the origins of the myth. While we can't pinpoint the moment of its conception, we can tell you that the 20% down payment is more an ideal than a requirement. There are benefits to having a larger down payment. For example:
If you can save and afford to pay 20%, you will need to borrow less money and your monthly mortgage payment will be lower.

A large down payment gives you instant home equity. If for some reason you would need to tap into that equity, you could more easily pull it out with a home equity line of credit (HELOC). State restrictions may apply.

If you are putting down 20% on a conventional loan, you will not be required to pay mortgage insurance. Mortgage insurance helps protect the lender in a mortgage with less equity. This insurance gets more expensive as the loan to value (LTV) increases. We will cover more on mortgage insurance in the sections to follow.
While there are some advantages to putting 20% or more down when you buy a house, it is a myth that it is necessary for home ownership. There are other loan programs that might be the right fit for you.
Low and No Down Payment Programs to Consider
Let's review some of the many no and low down payment mortgage programs that you may want to consider as a homebuyer.
FHA Loan
The Federal Housing Administration (FHA) offers low down payment mortgages to qualified home buyers. Some benefits of an FHA loan are:
You don't have to have a stellar credit score.

You could have a down payment as low as 3.5%.
The home you purchase with an FHA loan must be used as your primary residence. You will also be required to purchase FHA mortgage insurance.
When you are considering an FHA loan, make sure you factor the cost of FHA mortgage insurance into your monthly payments. It's a requirement no matter your down payment. An FHA loan also has an up-front mortgage insurance premium (UFMIP) that can be included in your loan amount or paid at the time of closing.
Many lenders, including SIRVA Mortgage, offer FHA loans. We would be happy to discuss low down payment FHA loans with you.
VA Loan
The Veterans Administration (VA) also has a mortgage program that features no down payment requirement. You may be able to get a VA loan if you meet these criteria:
You meet the service requirements as outlined here. The requirement is longer for veterans who served in times of peace than it is for those who served in times of war. The benefits also accrue to National Guard members and members of the military reserve.

You have a Certificate of Eligibility. Most service members can qualify provided they received an honorable discharge.
The VA loan program is meant to make the dream of homeownership available to eligible service members and veterans. With a VA mortgage, there is no down payment required. However, there is a VA Funding Fee assessed, based on the amount of down payment and if you have used the benefit before. It can be added into your loan amount or paid up front. There are situations in which a veteran may be exempt from the VA Funding Fee.
If you qualify for a VA mortgage, it may be a good choice for you. It's a loan program that's designed to keep your monthly payment low. SIRVA Mortgage offers VA loans and we would be happy to discuss VA loans with you.
Conventional Mortgages
Another option for a low down payment mortgage loan is a conventional mortgage. A conventional mortgage is one that isn't backed by a government program such as the FHA or VA. Most mortgage lenders offer conventional mortgages, and most will accept a low down payment.
The requirements for a conventional loan vary from lender to lender. In most cases, a minimum credit score of 620 is required to be approved for a conventional loan.
Down payments less than 20% will generally be charged a higher interest rate. Typically, the lower the down payment, the higher the interest rate.
Most conventional loans require a down payment of at least 5%. However, there are programs that allow a higher LTV. One such program is the Fannie Mae 97% loan-to-value option. To qualify, at least one applicant would need to be a first-time homebuyer (meaning you haven't owned a home in the last 3 years) and would need to meet homeownership education requirements.
Other Loan Options
If you are buying a home in a rural area, then you may want to seek out a mortgage lender who offers USDA loans. USDA Loans are specifically designed to meet the needs of buyers in qualified rural areas.



Advantages and Disadvantages of Low and No Down Payment Mortgages
There are advantages and disadvantages to getting a mortgage with a low or no down payment. We'll start with the advantages:
If you are trying to save up a 20% down payment, it can take a long time. A low down payment gives you the ability to buy more quickly and to take advantage of a buyer's market or lower interest rates.

A low down payment allows you to keep more cash on hand for emergencies or everyday expenses. If you deplete your savings to buy a home, it may take you a while to replenish a financial cushion for your family. If you put less down, you can keep that cash available, so it's there when you need it.

There is down payment assistance available from third parties. In some cases, you may not even need to save money for a down payment if you qualify for a down payment assistance program.
Saving for a down payment can be a road block that prevents buyers from achieving their dream of owning a home. The existence of low and no down payment programs removes that barrier.
On the other hand, here are some disadvantages to putting down less money:
Your monthly mortgage payment will be higher. One of the primary advantages of a 20% or higher down payment is that it reduces the amount of money you need to borrow and thus, reduces your monthly payments.

Depending on the loan program, you could be required to pay for mortgage insurance. The monthly premium is added to your mortgage payment and, depending on the down payment, could be substantial.

It will take a longer time to build significant equity in your home. At the beginning of your mortgage term, payments are weighted heavily toward interest. Since you won't be paying down the principal at first, you won't have much equity. That can impact your ability to qualify for a HELOC or to get a cash out refinance secured by your home equity.

In a competitive housing market, the potential exists that a low down payment could hurt you when a seller compares you to other buyers. Specifically, they might worry that if the appraisal comes in lower than their asking price, you might not have the funds necessary to proceed with the purchase.
For many buyers, the advantages of a low or no down payment mortgage far outweigh the disadvantages. Without these options, some people might never be able to buy a home. The tradeoffs in the form of higher monthly payments and mortgage insurance may be worth it when the alternative is continuing to rent.
If you are concerned about your ability to save 20% for a down payment we believe it's worth exploring a low or no down payment program. If you qualify, you may be able to buy a home now instead of waiting years and hoping that you'll be able to afford the down payment.
Conclusion
Is it a good idea to buy a house with a low down payment or, in the case of a VA loan, with no down payment at all? We can't decide whether it's right for you, but we can tell you that SIRVA Mortgage works with buyers every day to help them decide the best way to get the home they want -- even without a 20% down payment. As a borrower, it's a good idea to explore all mortgage types and find a mortgage or payment assistance program that will help you to attain your dream of homeownership.
SIRVA Mortgage's licensed mortgage consultants can help you navigate your loan program options to find the right mortgage for you. Do you want to buy a home now without saving for a big down payment? We're here to help! Click here to apply now.