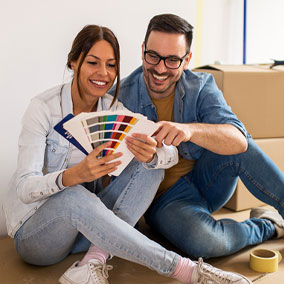 Should You Remodel or Move?
Your existing home isn't meeting your needs. This may be because your family has increased in size. It may be because you've started a home-based business and you require office or storage space. It may also be because you are living in an outdated floor plan. Whatever the reason, you have a choice to make: remodel or move?
At SIRVA Mortgage, we help clients navigate the ins and outs of home financing every day. That includes both buying new homes and refinancing the homes they own to remodel. Since the decision you make can impact your life for years to come, here are some pointers to help you decide if moving or remodeling is right for you.
Pros and Cons of Remodeling
Undertaking a home renovation has some undeniable advantages, but it's also not easy. For that reason, let's look at some of the pros and cons of remodeling.
Pros of Renovating
As a homeowner, it's important to consider the benefits of remodeling your existing home instead of moving. Here are some pros to consider.
You can create a custom home. When you remodel, you can be sure that you'll get exactly what you want. By making all the decisions, you can turn your current home into your dream home.

You can avoid the hassle and stress of moving. Moving is both time-consuming and expensive, so choosing a home remodel instead can eliminate the stress of moving.

You can use home equity to pay for the renovation. The costs of a renovation project can be high, but if you've lived in your current home for a while, you probably have enough equity to offset your expenses.
While remodeling is not for everybody, there are some significant advantages.
Cons of Renovating
Now, let's review the downsides of renovating. There are several that you should keep in mind.
There will be unexpected expenses. Even if you get multiple estimates and pad your budget, the likelihood is high that your renovation will cost more than you originally estimated.

You'll be living in a construction zone. There's no denying the inconvenience of home renovation. Whether you're doing a kitchen remodel or adding square footage with an extension, you'll need to deal with the reality of living in chaos for a while.

There's no guarantee you'll recoup your expenses. A renovation can add value to your home but there's no guarantee that you'll recoup your costs when you sell. Keep your neighborhood in mind. Be wary of over-improving.
We suggest considering the worst case scenario before you commit to a home remodel.
Pros and Cons of Moving
Just as remodeling has its pros and cons, so does moving. Here are some things that may guide your decision.
Pros of Moving
Moving is a lot of work but sometimes it's the best choice. Here are the pros of moving to a new house instead of remodeling.
Finding a home that suits your needs. Renovating is one thing, but an experienced real estate agent may be able to find you a home that already has what you need.

Avoiding the inconvenience of construction. Moving has its challenges, but it would be quicker and easier than remodeling your entire home. If you find a home that's move-in ready, you won't need to live in a construction zone.

Moving to a better location. In addition to avoiding the inconvenience of remodeling, you may also be able to find a home in a better location with better schools and other advantages.
The thought of moving might be daunting but when you weigh these pros against the inconveniences of remodeling, it may be preferable.
Cons of Moving
Now, let's review the disadvantages of moving.
The costs of moving can add up. While moving may be less expensive than renovating, the costs can still add up. By the time you add in a down payment, closing costs, and payment for a moving company, you may end up spending more than you'd like to relocate.

You might not find the house you want in an area you love. If you love your current neighborhood, then moving might mean settling for an area that you don't like as much, whether it's because you'll be living apart from friends and family or dealing with a school system that's not as good as the one where you currently live.

You may not find a house that fulfills every need. When you hire a remodeling contractor, you get to decide what you want. If you're looking for a home that's move-in ready, you may need to sacrifice some things in favor of others.
Some of these decisions don't need to be made right away. You could work with a real estate agent to see if you can find a home that has the features you want before you undertake a home remodeling project.
How to Know if Remodeling is Right for You
The next question you'll need to ask is if remodeling is right for you. Not everybody has the ability or desire to cope with the stress, expenses, and inconvenience of remodeling.
Home Equity
If you've been living in your existing home for a while, you have most likely built some equity in it. That equity can be useful when you take on a major remodel.
The first option for using your home equity is to borrow against it by doing a cash-out refinance. This may be a worthwhile thing to do because the remodel may increase your home's value, allowing you to earn the cost back when you sell.
The second option is to take on a second mortgage, essentially re-borrowing the money that you have accumulated in equity. A third option would be a home equity line of credit or HELOC.
What you should avoid is using your retirement or investment account to pay for a home remodel. Allowing that money to grow will help you in the long run.
Inconvenience
We've already mentioned the inconvenience of renovation, but it's a big issue that deserves additional consideration. Depending on what your remodeling involves, the inconvenience may be too much for you and your family.
You should talk to a remodeling contractor about what would be involved. You may need to obtain temporary housing for your family for part or all of the renovation.
Logistics
The logistics of renovation shouldn't be taken lightly. The first question to ask is whether your current home can be remodeled to meet your needs. If all you want is a little more living space, the answer is probably yes. However, you should keep local ordinances and permits in mind before you decide.
Family inconvenience can fall under logistics as well. Asking young children to deal with a long-term renovation project is a lot, and you'll have the task of keeping them safe in a construction site as well. Keep their needs in mind and decide if the mental and emotional cost of home improvement is too high.
Remodeling Tips and Tricks
Because remodeling can be expensive and time-consuming, here are a few tips to help you improve the resale value of your current house with your remodel.
Focus on Efficiency Over Space
When you plan your home remodel, keep the efficiency of the space in mind. You shouldn't add square footage unless it's necessary. Smaller projects, such as installing custom pull-out drawers in your kitchen, can increase your storage space for less than it would cost to increase the floor space.
Use Recycled Materials
If you're doing part of your renovation yourself, you can save money by visiting your local recycling center or a Habitat for Humanity ReStore. You may be able to find lightly-used fixtures and other items for a fraction of the cost of new items. Just keep in mind that many contractors won't work with recycled materials for liability reasons.
Build Some Sweat Equity
According to the experts at "This Old House", one of the best ways to shave money from the cost of your renovation is to do some of the work yourself. You might not have the expertise to create custom cabinets, but you can swing a sledgehammer to demo the old ones. You may also be able to handle finishing touches such as paint. Even something as simple as handling the daily cleanup can save you between 3% and 5% of the total cost of remodeling.
Consider Long-Term Costs and Maintenance
Look for ways to save on long-term maintenance costs. That may mean springing for a water filtration system to extend the life of new appliances or choosing the pre-painted and pre-primed siding instead of raw plywood. While these things can increase your costs up front, they can save you thousands in the long term.
Use Leftover Materials or Remainders
If you're working with a general contractor, ask about using leftover materials or remainders for your renovation. It won't always be possible, but if you're only adding new wood flooring on one room or you need a small slab of soapstone for a new bathroom counter, you could save a lot by taking advantage of someone else's leftovers.
Renovate in the Off Season
The most popular times of year for home renovations are the summer and fall. If you take on a major renovation at that time, it will cost you more than it would in January or February. If you can be flexible with the timing of remodeling, you can save thousands of dollars and give your contractor work at a time of year when they need it.
Plan Your Reno with Stock Sizes in Mind
Many of the materials that are used in a renovation come in stock sizes. This includes items such as plywood, windows, and doors. If you plan with these sizes in mind, you can avoid the additional cost of ordering custom doors, leaving you more money for other things.
Conclusion
The decision to stay in your current location and remodel instead of moving is a big one. We hope that the information and tips we have included here will help you to evaluate your options and make the best choice for you and your family.
Are you looking for refinancing to accommodate your renovation budget? We're here to help! Click here to read about SIRVA Mortgage's refinancing options.