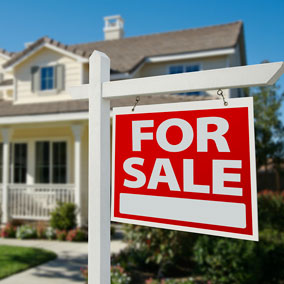 Tips for Selling Your House
Selling your house is a big decision. Beyond the fact that you probably have a sentimental attachment to any place that you call home for a period of time, there are many logistical and financial issues that you'll need to address before and during the process.
While our focus at SIRVA Mortgage is on helping people buy homes, our clients are often in the process of selling a home at the same time they buy a house. With that in mind, we've created this list of 12 tips to help you understand how to sell your house and get the best deal possible.
Hire an Experienced Real Estate Agent
There are few things that make a bigger difference in the price you get for your home than hiring an experienced real estate agent. The right listing agent will understand the housing market in your area, help you strategize and set the right asking price, and make your home appealing to any prospective buyer.
Since a home sale is likely to be the biggest transaction you will ever complete, it makes sense to have someone in your corner who can help you navigate the process and negotiate with the buyer's agent when the time comes to execute a Purchase Agreement.
Some sellers choose to sell homes without an agent. If that's something you're considering, you should plan on hiring a real estate attorney to review your purchase contract and represent you at the closing.
Do a Deep Cleaning
Even if your home is in excellent condition, you still want it to look as good as possible before you invite a prospective buyer in for a viewing. The home selling process involves many steps, but it's always a good idea to do a deep cleaning of your house before you put it on the market. You may even want to consider hiring a cleaning service to do the cleaning for you.
When we say deep cleaning, we mean cleaning everything in your home, including those areas that might not often get a lot of attention. You should plan on cleaning your floors, windows, walls, appliances, carpets, curtains, chimney, and everything else. A clean house will make the best possible impression on prospective buyers and may lead to a better sale price than you would get with a home that wasn't as clean as it could be.
Take Care of Repairs
It's common for homeowners to let small repairs wait when they're busy with other things. Whether you're working overtime or running your kids around town, you may put off replacing that broken doorknob or fixing a leaky faucet until you have the time to do it.
When you're selling your home, you can't afford to wait for repairs. Even small things like that doorknob can contribute to a negative first impression when a prospective home buyer comes to your house. They may worry that small repairs are only the tip of the iceberg.
Tour your house as if you were a buyer and make a list of every repair that's needed. If you can take them on without help, then do so. Otherwise, hire someone to address each issue before you start showing your home to agents and buyers. Making these repairs now will serve you well during the home inspection, too.
Maximize Curb Appeal
The very first impression a buyer may get of your home happens when they pull up to the curb or into the driveway for a viewing. You've probably heard about curb appeal. It's the term for the impact your home has when someone sees it from the curb. Does it look inviting? If it does, the prospective buyer will walk through the front door with optimism -- and they'll be primed to like what they see inside as a result.
Here are a few things you can do to maximize the curb appeal of your home.
Refresh the paint and siding

Replace exterior fixtures

Repair fences and stone walls as needed

Plant a garden

If you don't have space for a garden, put a few nice potted plants on and around your porch or front door

Add a window box or two

Replace the front door and/or add details around it, such as molding

Add shutters to the windows

Replace old gutters and drainpipes

Give your curtains a refresh, so they look nice from the street

Power wash your porch, driveway, and patio/deck

Replace your mailbox or give it a fresh coat of paint

Put a seasonal decoration on the door (keep it tasteful and non-denominational; for example, you can't go wrong with a nice wreath.)
You can ask your real estate agent for advice, too. They understand the real estate market and can tell you which features will help create the most curb appeal.
Declutter Your Home
When people walk into your home, you want it to feel as spacious and welcoming as possible. If you're like most people, you probably have at least a little bit of clutter here and there. Whether it's a pile of books on your bedside table, an overflowing toy chest in your child's playroom, or an array of boots and shoes in your mudroom, you need to look at your home through a buyer's eyes.
Decluttering is a must. That means putting things away and packing or storing overflow items. Surfaces should be as bare as possible. You can leave decorative items, but keep them to a minimum. A clutter-free space will be appealing to possible buyers and help them choose your house over similar homes in the area.
If you don't have space for the items you clear away, it may be worthwhile to rent a storage space for your extra belongings. If you decide to rent a space, make sure to pack everything carefully and label it to streamline the moving process after you sell your house.
Depersonalize Your Space
In addition to decluttering your home, we recommend depersonalizing it as much as possible. You probably have an array of family photos, kids' drawings, and other personal items in your home. The issue with keeping these things around when you show your home to a potential buyer is that they may make it difficult for the buyer to imagine their own belongings there -- and you want them to be able to do that!
Your real estate agent can help you decide which items to leave in place and which to pack away. It may feel odd to take away the personalized touches you've added over the years but as the home seller, you need to put yourself in the buyer's shoes and consider what they want to see.
Hire a Professional Photographer
Technology has made it easier than ever to go house hunting. Considering that many of the prospective buyers for your house will view it online before they visit in person, it's essential to have great-looking pictures for your listing.
Unless you're a professional photographer, we strongly recommend hiring a professional to take your pictures. Beautiful pictures will show your home off to its best advantage and entice buyers to take a closer look. A pro will be able to finesse the lighting, choose the angles that make each room look beautiful, and put everything together in a way that's appealing.
While you might not love the idea of paying someone to take pictures, good pictures can increase the pool of prospective buyers for your home and help you make a quick and profitable sale.
Price Your Home Appropriately
Setting an appropriate price for your home is a must if you want it to sell quickly. If you are working with a real estate agent, they can help you by providing you with a Comparative Market Analysis (CMA) that compares your home with others in the area to give you a realistic idea of what you can get for it.
Real estate agents will usually provide a CMA to prospective clients, so you don't need to commit to an agent to get their analysis. If you prefer to do the analysis yourself, here are some tips from Zillow. Look at:
Homes within 1/4 to 1/2 mile of your house

Listings within the past three months

Homes of the same approximate age as yours

Homes with approximately the same square footage as yours (Zillow recommends a margin of 10% in either direction. If your home has 1,500 square feet, you should look at homes with between 1,350 and 1,650 square feet.)
You may also want to consider looking at price bands in your neighborhood. If most homes are selling for amounts between $250,000 and $260,000, and others are over $275,000, you may be able to gain an advantage by pricing your home between $265,000 and $270,000 to get buyers who fall between the two bands.
Finally, look at some expired listings with the same criteria that Zillow recommends. If you notice that listings have expired, learn from the mistakes those homeowners made and price your home a little lower to increase the likelihood of a sale.
Stage Your Home to Be Attractive to Buyers
Before you have an open house and welcome buyers into your home, you'll need to stage it. Staging involves presenting your home in its best light during the home selling process. You'll have a better chance of getting an offer that's close to your list price from a qualified buyer if you stage your home properly.
Lighting
Effective staging begins with good lighting. People pay a lot of attention to lighting when they view homes, which means that good lighting can add to your home's value in the eyes of buyers.
Here are some lighting tips to help you:
Check your existing fixtures and clean or replace them as needed.

Open curtains and blinds to let in as much natural light as possible.

Turn all lights on for a showing, including those inside closets.
Keeping the lights on will make your home look big and bright and it will save prospective buyers from having to search for light switches.
Furniture
The furniture in your home during a showing should enhance your home's beauty. You may be able to use your existing furniture or, as some sellers do, you may want to rent furniture instead.
Here are some furniture considerations to keep in mind as you stage your home.
Choose furniture that's the right size for each room. Furniture that's too big will make rooms feel cramped, while furniture that's too small or too sparse may make your house feel cold and unwelcoming.

Consider investing in slipcovers to freshen up existing furniture. A few nice throw pillows can add appeal as well.

Arrange furniture in a way that allows easy passage through rooms. For example, create a nice conversation area in your living room.
Here again, your real estate agent can help you make staging decisions that will show your home at its best.
Neutral Colors
Any potential homeowner who visits your house will want to be able to imagine their furniture and other belongings there. That's why we mentioned depersonalizing the space, and the same rule applies to the colors in your home.
You may love your lime green leather sofa but any seller's agent will tell you that neutrality should be the goal to facilitate a sale and get fair market value for your home. It's for this reason that you may want to consider renting furniture or buying some nice slipcovers to create a blank canvas. That way, buyers can project their own furniture into the rooms and imagine how it will look there instead of being distracted by bright colors.
You can offset some of the neutrality with living things. Even if you are not a plant person, you can bring some color and life into your space with potted plants or vases of fresh flowers.
Other Factors
There are a couple of other factors to consider when you're staging your home.
First, there's the question of pets. While some people love animals, others do not. You may want to consider asking a relative or friend to watch your pets while you host potential buyers. Not only will this make possible buyers comfortable, it will also allow you to keep your home free of pet fur and pet smells.
If getting the pets out of the house isn't an option, then consider putting your dog on a run in the back yard or confining your cat to one room. It's a short-term solution but one that can increase the chances of getting your asking price. If you have smaller pets such as hamsters and guinea pigs, make sure their cages are pristine before each showing. You don't want unpleasant pet odors to give prospective buyers a negative impression of your house.
The second big question is whether you and your family should be home during showings and open houses. Your listing agent will tell you that they prefer that you not be home. Your presence may make prospective buyers feel uncomfortable or reluctant to ask questions. The selling process is in the agent's hands and your best bet is to let them do their job. That's why you're paying them an agent's commission.
Look for Pre-Approved Buyers
Whether you're represented by an agent or a FSBO seller (that's For Sale By Owner), your best best is to focus on finding a qualified buyer with a mortgage preapproval. Preapproval isn't a guarantee that the buyer will get a mortgage, but it does take some of the guesswork out of the equation.
Prequalification is not as rigorous as preapproval. It usually relies on self-reported information that may not have been verified by a lender. Keep in mind, lender requirements and terminology usage may vary. Preapproval is preferable if you want to minimize the chances that a deal will fall through. It isn't the only consideration, but you can buy yourself some peace of mind by dealing only with preapproved buyers.
Evaluate Offers Carefully
If you and your agent have both done what you can to make your home attractive to possible buyers, then you may end up with multiple offers on the table. You're more likely to have options in a seller's market, where buyers are competing for a limited number of houses.
When you review offers, keep these things in mind.
The buyer's preapproval status

How much they can offer as a down payment

The contingencies requested by the buyer (in most cases, the buyer will request contingencies related to the home appraisal and potential repairs)
Your real estate agent will help you evaluate each offer, keeping an eye out for red flags that might derail the home selling process. Your goal should not necessarily be to take the highest offer. Instead, focus on finding the best buyer for your home.
Negotiate a Short Escrow (Optional)
Depending on your circumstances, you may want to consider negotiating a short escrow. In most house sales, the escrow period is 30 days. In some cases, if there are delays with the appraisal, inspection, or title search, it may be closer to 45 days.
If you're planning to move quickly and you need to close on a new house, you may want to talk to your agent about negotiating a short escrow. Some buyers may be willing to close quickly, especially in a seller's market, if it helps them to get the house they want.
Conclusion
Knowing how to sell your house is a must whether the housing market is favoring buyers or sellers. The tips we've included here will help you present your home in its best light and get a favorable price when you sell.
Are you selling your home and in the market for a new house? We can help!
Click here to start the preapproval process now.