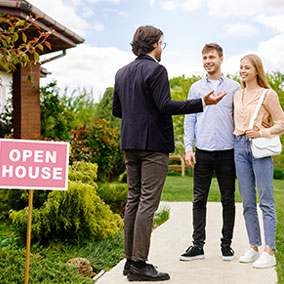 Mortgage Options for First Time Home Buyers
Are you planning to buy your first home? If so, then you're probably reading about the home buying process, learning about mortgage options, and crunching the numbers to determine how much you can save for a down payment and what your monthly payment will be.
We love working with first-time buyers because it's such an exciting time in their lives -- and we get to be part of it! SIRVA Mortgage is a mortgage lender dedicated to pairing borrowers with the right mortgage for their financial needs and helping them navigate the buying process from budgeting through closing. Here are some first time home buyer mortgage options that you may not have considered that are ideal for first-time home buyers.
Challenges for First Time Home Buyers
First time buyers must face some common challenges to achieve their dream of homeownership. When a lender reviews your application, they will need to see that you have enough income and financial stability to make your monthly mortgage payment.
One of the biggest challenges relates to the down payment. While there are down payment assistance programs available to new buyers, you may still need to have money for a down payment. You may choose to have a large down payment, however loans will start with a minimum of 3% down payment.
The second issue is the credit limitations for buying a loan. Some lenders and loan programs have minimum credit score requirements for borrowers. If your credit isn't in good shape because you have a history of late payments, or even if your credit history is limited, you may want to work to improve your credit score before you become a homebuyer.
FHA Loans
One of the best-known first time home buyer mortgage loan programs is run by the Federal Housing Authority. The FHA makes low down payment loans available to qualified buyers.
The basic 203b mortgage is what most first time buyers use. The program provides mortgages with as little as 3.5% down.
One requirement for FHA loans is that you must pay for mortgage insurance, which includes both an up-front payment and an annual premium. The good news here is that you can roll the initial mortgage insurance payment into your loan. However, the monthly mortgage insurance premiums will be your responsibility.
Another requirement for FHA loans is that the home you purchase must be your primary residence. FHA loans are not available for people buying a second home or vacation home.
VA Loans
Another first time home buyer mortgage to consider is a mortgage from the Veterans Administration. VA Loans are designed to help people who have served in the United States Military to get a home loan without some of the requirements that may be imposed by private lenders.
The VA Loan program does have some requirements related to military service. To qualify, you must apply for and receive a Certificate of Eligibility (COE), which requires a specified period of service and an honorable discharge if you are no longer in active service.
The service requirements are based on when you served and whether you served in a time of peace or in active combat. The VA loan program is also available to those who have served in the military reserve or National Guard. You can find a full list of service requirements here.
If you qualify for the VA loan program, you can get a home loan through a participating lender with a competitive interest rate, no down payment, and no mortgage insurance required. Unless you are considered disabled, you will be required to pay an upfront funding fee. The fee changes depending on several factors, including the type of VA loan, whether the borrower has used the VA loan benefit before and whether there's a down payment. Borrowers with service-connected disabilities and select others might not have to pay it at all. We should note that in addition to helping first time homebuyers, the VA program also offers refinancing.


Conventional Loans
The next option you may want to consider is a conventional loan, which is a mortgage loan that may be either conforming or non-conforming. Conforming loans are backed by either the Federal National Mortgage Association (Fannie Mae) or the Federal Home Loan Mortgage Corporation (Freddie Mac).
If you choose a conforming loan, you will need to meet the lending requirements set out by Fannie Mae and Freddie Mac. The requirements are as follows:
A credit score of at least 620.

A debt-to-income ratio of 50% or less (A ratio over 36% requires approval through Fannie Mae's Or Freddie Mac's automated underwriting processes)

Reduced reserve requirements – in some cases less than 2 month's reserves may be enough to qualify

Mortgage insurance for all loans with less than a 20% down payment

At least one borrower must complete homebuyer education.
HomePossible Loan
Freddie Mac offers several home loan programs, including the HomePossible Program, which allows a co-borrower who does not live in the house being purchased. In other words, if a borrower can't qualify for the loan on their own, they may have a family member co-sign to help them buy a house.
We should note here that some lenders may add additional requirements for a non-conforming than with a conforming loan. That's because many non-conforming loans are jumbo loans and lenders take on more risk with a jumbo loan than they do with a conforming loan. The maximum loan amount for a conforming loan in 2021 is $548,250, and 150% that amount, or $822,375 for high cost areas.
HomeReady Loan
The HomeReady Mortgage Program is offered by Fannie Mae and it deserves a separate mention. It is designed to help low-income buyers to achieve their dream of homeownership. It has some specific features that help to remove obstacles that can prevent people from buying a home.
Some of the requirements for the HomeReady program are the same as they are for Fannie Mae. You must have a credit score of 620. However, there are some differences. Buyers may use gifts, an employer payment assistance program, and other sources for a down payment. The minimum down payment is 3% of the purchase price with mortgage insurance required.
Another nice feature is that mortgage insurance requirements are relaxed when the loan is paid down to 90% of the home's value and eliminated when it gets to 80%. You will need to be prepared to pay your mortgage premiums for several years, but once you have earned some equity in your home, you can get rid of your mortgage insurance.
We want to note here that there are some programs that we don't offer at SIRVA Mortgage. If you qualify for a USDA loan, which is a loan program designed to help people buy homes in eligible rural areas, you may want to explore that as an option as well.
Choosing the Mortgage That's Right for You
Now that you have learned about some of the first time home buyer mortgage programs that are available, let's talk about what you'll need to do to choose the option that's best suited to your needs.
The first thing that we suggest is to review the borrower requirements and eliminate any programs for which you are not qualified. For example, if your credit score is less than 620, you may not be able to get a conventional mortgage.
Next, think about your down payment options. If you have cash on hand for a 10% down payment, for example, then a credit score over 500 may be enough to help you qualify for an FHA loan. On the other hand, if you're relying on a gift from a family member to get a mortgage loan, then you may want to focus on the Fannie Mae HomeReady program.
Finally, we strongly recommend that you look at your budget and make a realistic assessment of what you can afford as a monthly payment. Make sure that you factor in the additional costs of being a homeowner.
Private mortgage insurance

Closing costs

Homeowners insurance

Property tax

Utilities
Your real estate agent should be able to help you with information related to average utility costs and property taxes. Sometimes, a first time homebuyer can be caught unprepared by the post-closing expenses.
Conclusion
Being a first time home buyer is exciting but it can also be stressful if you aren't sure which payment assistance and home loan programs are available to you. The first-time home buyer mortgage programs we have listed here are designed to make it possible for people who may not have enough money for a 20% down payment or a high credit score to achieve their dream of homeownership.
Are you a first time buyer looking for your new home? SIRVA Mortgage is here to help! Click here to read about the loan options we offer and begin the application process.