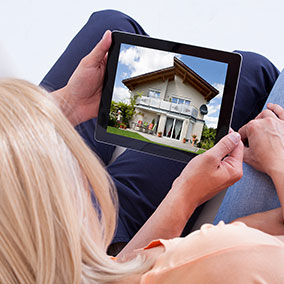 How to Buy a House Out of State
Moving can be stressful even if you're simply relocating from one end of a neighborhood to the other. It becomes even more of a challenge when you're moving to a new state. Whether you're moving because of a job or simply because you want to experience a new part of the country, we're here to help.
SIRVA Mortgage specializes in relocation mortgages. Every day, we work with homebuyers to help them navigate the process of getting an out of state mortgage. In this post, we'll explain the challenges associated with buying a house out of state, walk you through how to research areas to live, how switching jobs can impact your search, and how out of state real estate closings work.
Challenges of Getting a Mortgage Out of State
There are some ways in which buying a home (and applying for a home loan) out of state are more challenging than an in-state move.
Employment may be an issue. Many people relocate because their employer is transferring them or make arrangements to work remotely from their new home. Others are self-employed. For them, the employment question has already been answered. But, if those things don't apply to you, one of the biggest challenges of moving is that you'll be switching jobs. Any mortgage lender you approach will want proof of income and employment and a job switch adds some hurdles that you'll need to overcome.
There may also be some challenges associated with finding a mortgage lender. For example, some smaller lenders may not be able to lend in every state.
The same applies to finding a house to buy. There may be extensive travel involved in looking for a home. A typical home viewing happens in person, although virtual viewings are becoming increasingly popular.
Negotiating with the current property owner may require some flexibility on your part, particularly if you are buying in a state that's in a different time zone from where you currently live. It may take longer to negotiate a price and you'll need a local real estate agent to act as a go-between with the seller's agent.
Finally, there's the expense and time required to make a long distance move. A local move may take less than a day while a long distance move may take many days.
None of these things should stop you from buying a house out of state. We mention them only to illustrate that the process has some complexities that don't exist with an in-state home purchase.
Getting a Mortgage While Switching Jobs
Buying a home while switching jobs requires a bit more from you as a home buyer than the typical home buying experience.
Lenders are going to need proof that you have a job in order to close on your new home purchase. If you're switching employers, many lenders will accept a copy of your offer letter, but most require that you start your new job within two weeks of the closing.
There are factors that can give you some wiggle room with these requirements. For example, if you have an excellent credit score, a low debt-to-income ratio, and enough money saved to make a significant down payment, these things make you more attractive to a lender and more likely to be approved for an out of state mortgage.
Researching Areas to Buy
Buying a home in an area that is unfamiliar to you requires some research and fact finding ahead of time.
Resources to Research Neighborhoods
Let's start with some useful resources to help you research neighborhoods and determine whether they're a good fit for you and your family.
Some of the things you'll want to check include median household income, median home price, property tax rates, and crime rates. Here are some resources that may be helpful.
Best Places. Best Places is a website designed to help people compare cost of living between cities, including housing, utilities, groceries, transportation, and healthcare.

Trulia App. You may know Trulia as a real estate website. What you may not know is that the company has created a mobile app with 34 neighborhood overlays to help you compare schools, crime rates, and more.

SIRVA Relocation: If you are being transferred by your employer and SIRVA Relocation is handling your relocation, your Relocation Consultant can provide you with abundant information regarding your new location
You may also want to seek out the Wikipedia page for your destination city as well as the city or town website.
Finding a Local Real Estate Agent
When you buy a home out of state, you will need to find a local real estate agent. The best way to find a local real estate agent in your new town or city is via referral. If you know somebody who lives in the area where you plan to move, ask them who they would recommend. Or, some mortgage lenders, like SIRVA Mortgage, have relationships with real estate. SIRVA Relocation has an extensive national network of preferred real estate agents. Using one of these agents can not only ensure excellent tried and true service, but could also earn you cash back rewards.
The alternative to a referral is to read as many online reviews of real estate agents as you can and pay attention to them. Choose someone who is knowledgeable and provides excellent service.
Virtual Home Tours
You should never make an offer on a home without seeing it. However, in-person tours may not be possible, particularly if your employer isn't paying for a house-hunting trip.
If you don't have the cash flow or ability to visit homes in person, we recommend doing virtual tours instead. Ideally, the tour should be a live tour where the agent walks through the house and can take instruction from you on what you want to see. A pre-recorded 360-degree tour may be useful as a preliminary step, but it's not the same as a live tour.


Explore Relocation Mortgages
SIRVA Mortgage specializes in relocation mortgages and we have over 20 years of experience. We understand the special challenges that face out-of-state homebuyers and we can help you navigate the housing market and find the best mortgage rate.
What is a Relocation Mortgage?
A relocation mortgage is a mortgage loan granted to a person who is being transferred from one location to another by an employer.
We offer transferees quick pre-approvals and low origination costs. Our goal is to make your relocation as easy as possible.
We'll assign you a SIRVA relocation consultant who will take time to understand your employer's relocation policy and work with you at every step along the way.
Will a Relocation Mortgage Cover Moving Costs?
It is typical for employers to pay for moving expenses for employees who relocate on behalf of the company. Those costs are typically not included in the mortgage itself, but they may be part of your employer's relocation benefits.
You should make sure you read your employer's policy, so you can take advantage of its provisions when you move.
Relocation Mortgages and Your Employer
In addition to paying for some or all of your moving expenses, your employer may work with you to provide other benefits related to your relocation mortgage. These may include the following.
Closing cost assistance. Some employers pay all or part of the closing costs when they relocate an employee.

Interest rate buydown. Buying points on a mortgage allows you to pay extra money up front in return for a lower interest rate. Some employers offer assistance in this area.
As we mentioned earlier, you should be sure to read your employer's relocation policy. That way, you can take advantage of any benefits they provide, many of which can help you to save thousands of dollars in interest and other expenses.
Should You Visit in Person Before You Move?
We already mentioned virtual tours, but what happens after you make an offer? Should you visit your new home in person before you move?
Every home buyer should pay for a complete home inspection before the closing. In addition to the general inspection, you may want to talk to your buyer's agent about specialty inspections, such as HVAC, electric, pest inspections, or mold inspections.
The primary downside of visiting in person is that it may be expensive. You may need to buy airline tickets, and unless you can make the round trip in a day, you will need to pay for a hotel or rental property.
The biggest upside of visiting in person is that you'll have the opportunity to get an up-close look at the property you're buying.
We should also say a word about electronic offers. Increasingly, agents have incorporated technology into the homebuying process. While the negotiation process may be somewhat longer with a long distance move, it is easy to navigate the offer and negotiation process remotely.
Closing on an Out of State Mortgage
Closing on an out of state mortgage can vary based on lender capabilities and state laws. Some states still require all paperwork to be on paper while others will allow electronic signing for certain documents.
You should make sure to check what the signing requirements are in the state where you're buying a home. Your real estate agent and lender will help you with this. There are multiple options for closings.
In-person signing (all parties present)

In-person signing (one party present, the other signing remotely)

Remote signing (the borrower does not travel but meets in person with a notary to sign documents)

Mail-away closing (the borrower receives documents from the lender, meets with a notary to sign them, and then mails them back.)
Another option is to create a Transactional Power of Attorney that appoints someone as a fiduciary representative to sign documents on your behalf. To do this, you will need a signed Power of Attorney with your original signature to give to your representative. In every case, a notary will be required to notarize all signatures.
SIRVA Mortgage has created a seamless online process to ensure that your out of state mortgage application, underwriting process, and closing are easy to manage. Electronic closings are on the horizon and already happening in some areas. We are always thinking of ways to put technology to work for our clients and we will keep you posted on our progress in this area.
Conclusion
If you're relocating to a new state, whether you are doing so at the behest of your employer or simply to live in another part of the country, we're here to help. The information we've included here will help you understand how to buy a house out of state with the least amount of stress possible.
Are you looking for a relocation mortgage? Click here to read about SIRVA Mortgage's relocation mortgage products and begin the application process today.